CSR
01/03/2021
Bouygues Construction UK develop our partnership with the Supply Chain Sustainability School
---
Our partnership with the Supply Chain Sustainability School
After becoming a partner member with the Supply Chain Sustainability School back in 2017, Bouygues Construction UK's relationship with the School has gone from strength to strength.
Created in 2012 by seven founding partners, all main contractors, the Supply Chain Sustainability School is a free learning environment. The School's central aim is to tackle challenges in the industry, whilst upskilling those working within, or aspiring to work within, the built environment sector. They focus on 17 key topics around sustainability, as well as addressing topics in offsite, digital, procurement, lean construction and management.
The School is the result of a collaboration between clients, contractors and suppliers who have a mutual interest in building the skills of their supply chain. Partner Members like Bouygues UK pay for the School so that learning for others who register can be free. The learning material includes thousands of online resources and CPD-accredited content. As a partner, over the years Bouygues Construction UK has also benefitted from in-house workshops, webinars and CPD training, thanks to the Supply Chain Sustainability School.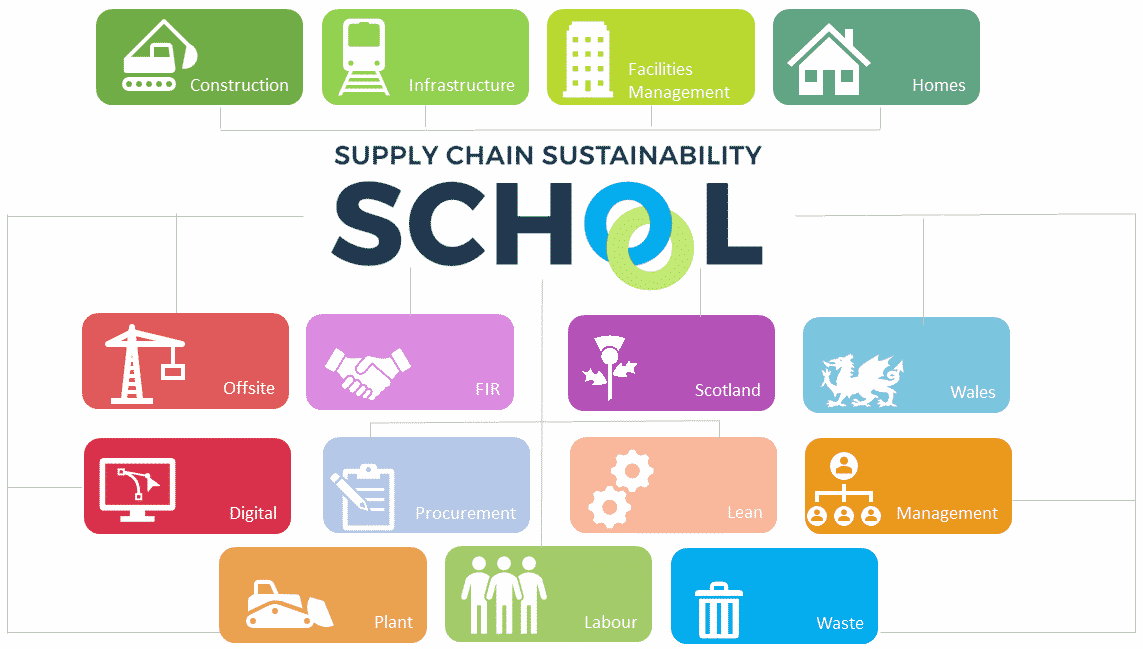 The FIR Ambassadors Network
Bouygues Construction UK are proud to be further developing our relationship with the School. Over 30 employees from Bouygues Construction UK have now signed up to become FIR Ambassadors.
The FIR Ambassadors Network was established in 2016. FIR Ambassadors work to promote a culture of Fairness, Inclusion and Respect within the workplace. They are expected to work closely within their organisation to promote the business benefits of FIR and challenge non-inclusive procedures and behaviours to positively impact workplace culture.
At Bouygues Construction UK, fairness, inclusion and respect form an integral part of our culture, so it is no surprise that so many of our employees have already expressed their interest in the programme. We already have five main internal networks that embody FIR principles. Be Yourself is our Diversity and Inclusion (D&I) identity at Bouygues Construction UK. The Disability & Wellness Peer Support Network provides a forum for employees who are experiencing health conditions or disabilities or caring for those that do. Encompass is our LGBTQ+ network, promoting a safe, inclusive and diverse working environment for everyone, regardless of their sexual orientation and gender identity. Kaleidoscope is our race network that celebrates our ethnically diverse workforce. Our Welink network is a place of exchange, sharing and solidarity for the women of Bouygues.
The newly appointed FIR Ambassadors have recently completed their first training session with the Supply Chain Sustainability School. This training will help the ambassadors better fly the flag for FIR principles and our pre-existing networks on site and in the workplace. At the end of their initial training, each ambassador will declare their commitment to the programme, but the opportunities do not end here. There is a FIR journey that ambassadors can take further if they so wish by completing additional, more in-depth training.
"I am very excited to be working with the School on our FIR Ambassador programme which is a significant milestone in our D&I journey. I would like to thank our ambassadors for agreeing to take part and for the time they have already committed to this important role, which is supported at the highest levels of Bouygues Construction UK."

Anne Smales, Deputy Commercial Director and Co-Chair of our women's network, Welink
"We are thrilled to be supporting Bouygues Construction UK in their journey to train and appoint additional FIR Ambassadors across their sites and workplaces. This is a great opportunity to spread the fair, inclusive and respectful workplace culture that the FIR programme strives for. Thanks to all the individuals who have put themselves forward and for joining us on the mission to make workplaces better for everyone. We look forward to supporting you all on this journey."

Sara Gouveia, Events & Marketing Officer at the Supply Chain Sustainability School
"I decided to become a FIR Ambassador because I wanted to help lead and drive the FIR message across our business. I have seen the great results that working as a team can bring and I would like to help remove any barriers that prevent achieving a culture of fairness, inclusion and respect. I am very excited to be a part of the programme and I hope to make a positive difference to the business."

Isabel Dickinson, newly appointed FIR Ambassador and General Management Graduate