CSR, Press Releases
16/05/2022
Bouygues UK Inspires Pencoedtre High School Pupil to Pursue a Successful Engineering and Rugby Career
---
A Pencoedtre High School pupil has not only changed his career aspirations but also tried out for his county's rugby team, thanks to two initiatives he took part in through Bouygues UK.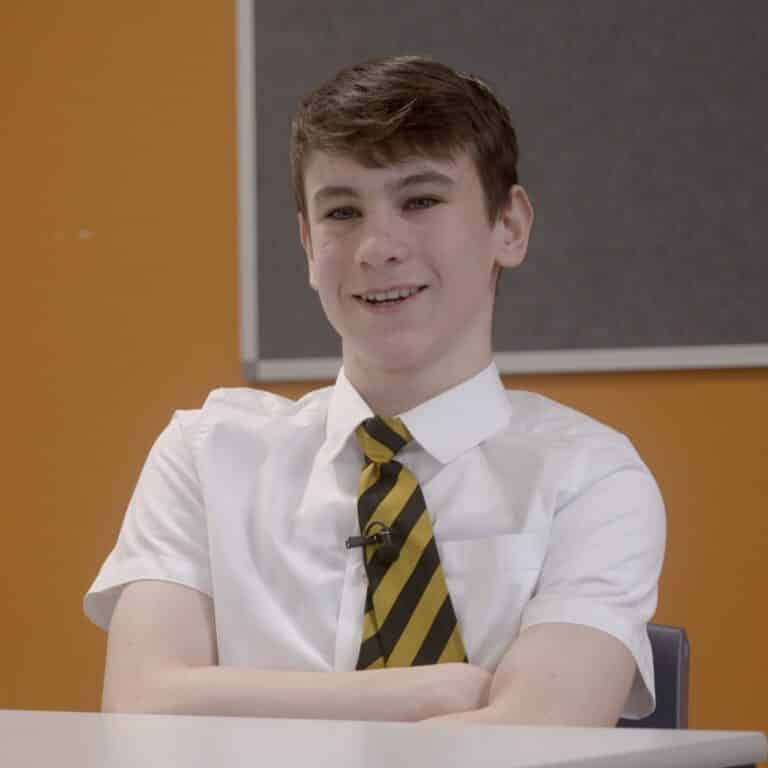 Year 10 pupil Jacob Nott had never considered working in engineering – or in fact playing rugby – but his visit to an engineering firm and participation in a rugby engagement programme called Tackle, both organised by Bouygues UK, has changed all of that.
Jacob visited Renishaw in Miskin with fellow pupils to get an introduction into the world of engineering and was so impressed he is now taking the subject at school.
Jacob, from Barry, said: "The visit to Renishaw was so good. There were lots of motorbikes and machines, and a robot, and it was all very interesting. I've picked engineering as a subject at school now and I wasn't really into anything like that before I took part in the programme, and now that's what I want to do."
Jacob was also a keen footballer until he was offered a place on Bouygues UK's Tackle programme, which was run by Cardiff Rugby Community Foundation. He loved it so much he has also recently had rugby trials for the Vale Schools rugby squad.
Tackle is a sport engagement programme linked with essential and life-skills workshops aimed at engaging, inspiring and motivating young people through an alternative curriculum experience.
The course engaged pupils at Pencoedtre High School through the delivery of workshops and practical sessions geared towards career aspirations. It gave the children the chance to develop their employability skills and develop prospects by learning through rugby values such as teamwork, respect, discipline and passion.
Fourteen year-old Jacob said: "To be honest I was more into football than rugby but I was invited to take part in the Tackle programme and I didn't really have a clue what I was doing! I was moved to scrum-half position and started getting into the flow of it. I played a game recently and I was picked for Vale trials. I didn't make the squad this time, but I was pleased to be put forward for the opportunity with only one year of playing under my belt.
"Without Tackle, I would have stayed with the football. As I was smaller when I was younger, I was too scared to do anything with rugby. But now I'd like to take it as far as I can take it. I'd love to take it professionally if I could."
Amee Colenso, Social Value Advisor at Bouygues UK, said Jacob is a prime example of why the Tackle programme has become such a success: "The programme of fun-filled events and workshops provided by Cardiff Rugby has a solid track record and it was great to see children like Jacob take advantage of it at Pencoedtre High School.
"Visits to engineering companies like Renishaw also introduced pupils to the world of construction and engineering, offering them a chance to see the exciting and varied careers they could have in a world they might not have otherwise considered."
Bouygues UK is currently working on the second phase of its build at Pencoedtre High School in Barry, to build its floodlit, all-weather hockey pitch, as well as grass rugby and football pitches.
Bouygues UK started the project before the pandemic hit, and despite having to build the school during the various lockdowns, has delivered a quality building on time and on budget. So far, the project has been able to provide more than £14million of local economic value and £20,000 worth of community support. It has also brought more than £700,000 worth of social value to the community.
The build is part of the Vale of Glamorgan Council and Welsh Government's Sustainable Communities for Learning investment programme, which has also delivered a new building for Whitmore High School and an expansion for Ysgol Gymraeg Bro Morgannwg in Barry too.
Mike Baker, Assistant Head at Pencoedtre High School said of Jacob's progression: "Jacob is a real asset to Pencoedtre High School. His love of engineering and construction has thrived due to the success of Tackle and he is able to demonstrate his passion in the top class facilities of our new build. I have been involved with Jacob as a rugby coach and I am also his maths teacher this year. He has matured into a determined young man and I am confident he will achieve great things in his future, owing partly to the experiences that Bouygues offered him".
---