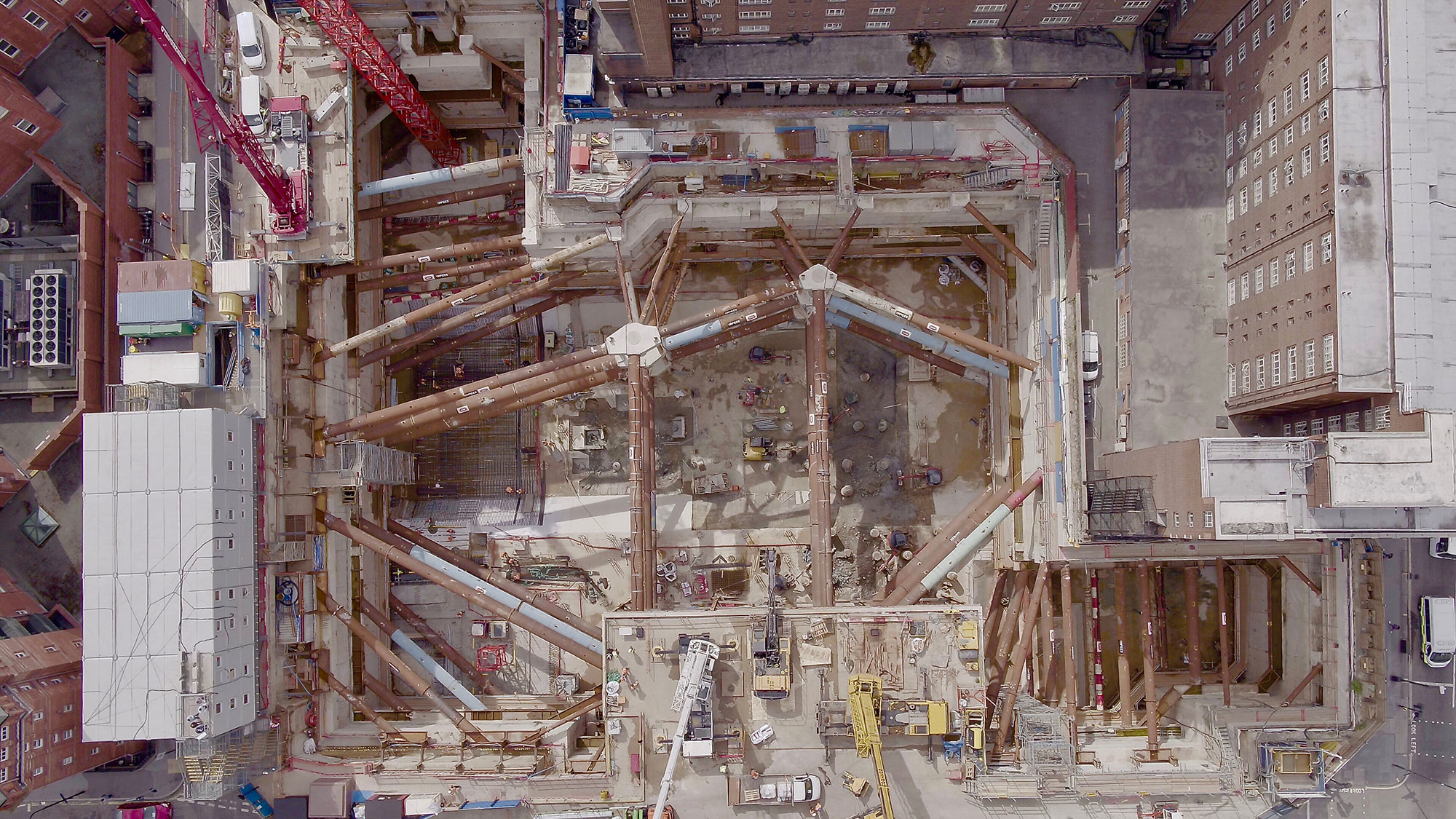 Our Projects, Press Releases
14/07/2017
Building for the future
---
One of London's largest excavations has now completed.
With five storeys below ground and a depth of 28.5 metres, it is big enough to contain the Royal Albert Hall. This basement will be home to one of two world-class NHS high energy proton beam therapy centres.
Watch the latest drone footage here
Proton beam therapy is a form of radiotherapy used to treat cancer which can be targeted extremely precisely, causing minimal damage to surrounding tissue.
Proton beam therapy has been offered overseas to NHS patients who are eligible for treatment in England since 2008 in a programme that has to date supported approximately 1,000 patients.
Together with the Department of Health, NHS England is funding the development of two world class centres at The Christie in Manchester and UCLH (University College London Hospitals NHS Foundation Trust) for NHS patients to be treated in the UK. Patients are due to be treated at The Christie from summer next year, with UCLH following in summer 2020. When complete they will each treat up to 750 patients every year.
Stanley Blyth was six when he travelled to USA for proton beam therapy. His mum, Lorraine said: "I think it is amazing and fantastic for children and adults to have a centre in London. It is much easier not having to pack up and leave when you need your friends and family nearby."
Dr Yen-Ch'ing Chang, clinical oncology consultant at UCLH and lead for proton beam therapy, says: "For certain cancers, conventional radiotherapy is the most suitable treatment. But when we are treating complex cancers, for instance in the brain, spine or near reproductive organs, and particularly in children, teenagers and young people, PBT has some advantages. The physical properties of protons reduces damage to surrounding normal tissues. This protects, for instance, fertility, IQ or growth and reduces the risks of developing a new cancer in the future due to radiation treatment or the need for life long hormone replacements. It is extremely exciting that UCLH with The Christie is increasing access to this type of radiotherapy."
Marcel Levi, CEO of UCLH, said: "It is a tremendous privilege to develop a clinical facility that will truly change people's lives. Here we will be able to treat more adults and children with proton beam therapy, ensuring better recovery and fewer side effects than possible with other treatments."
Fabienne Viala, Chair of Bouygues UK, said: "This is exactly the kind of project we relish. The complexity of undertaking London's biggest excavation within a tight site at the heart of central London enables us to add value through our technical knowledge and the infrastructure expertise of our colleagues within Bouygues Travaux Publics. This is no ordinary project: as well as being an innovative and complex build, the finished development will have the potential to improve and even save the lives of those suffering with blood disorders and complex cancers."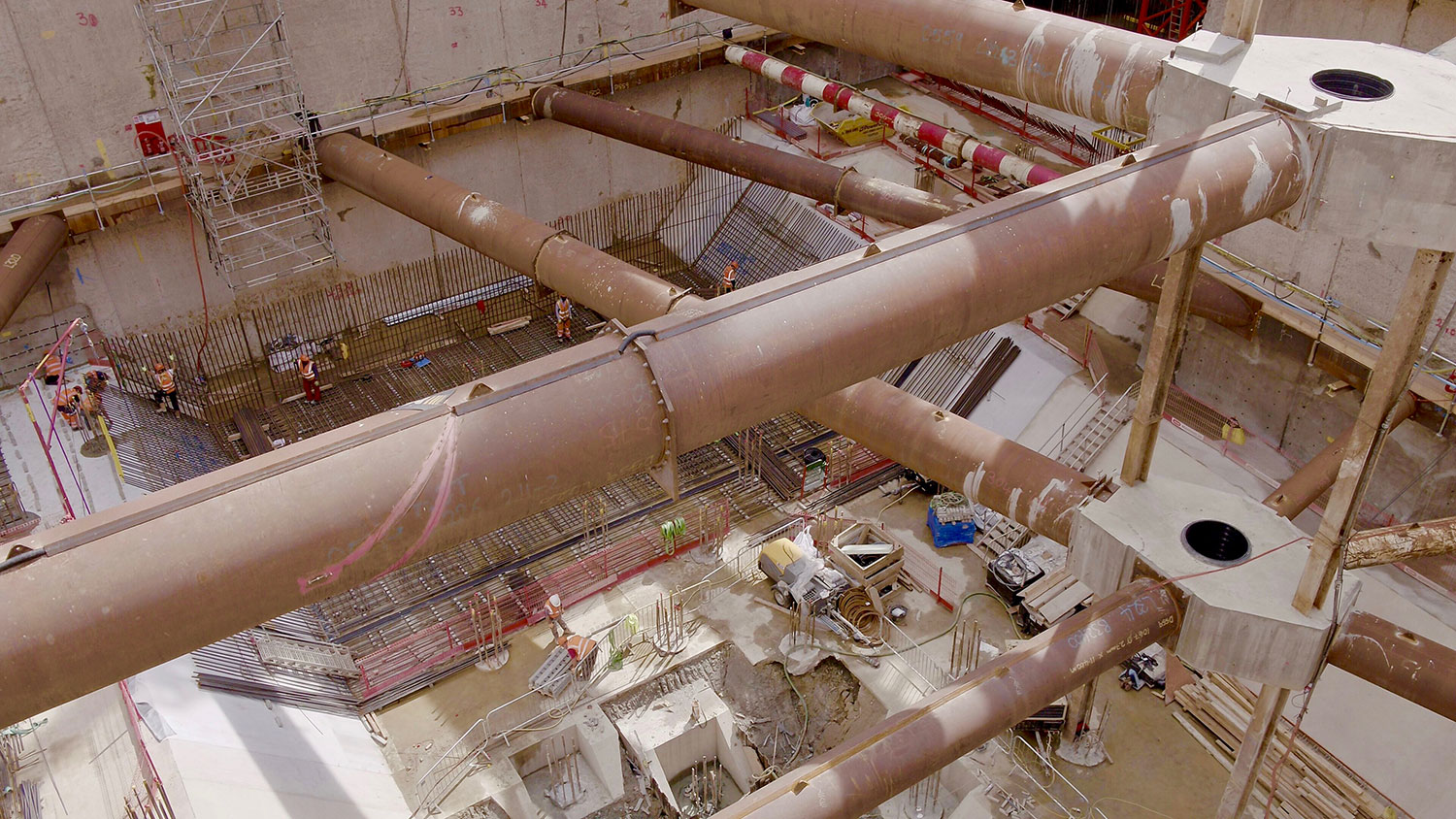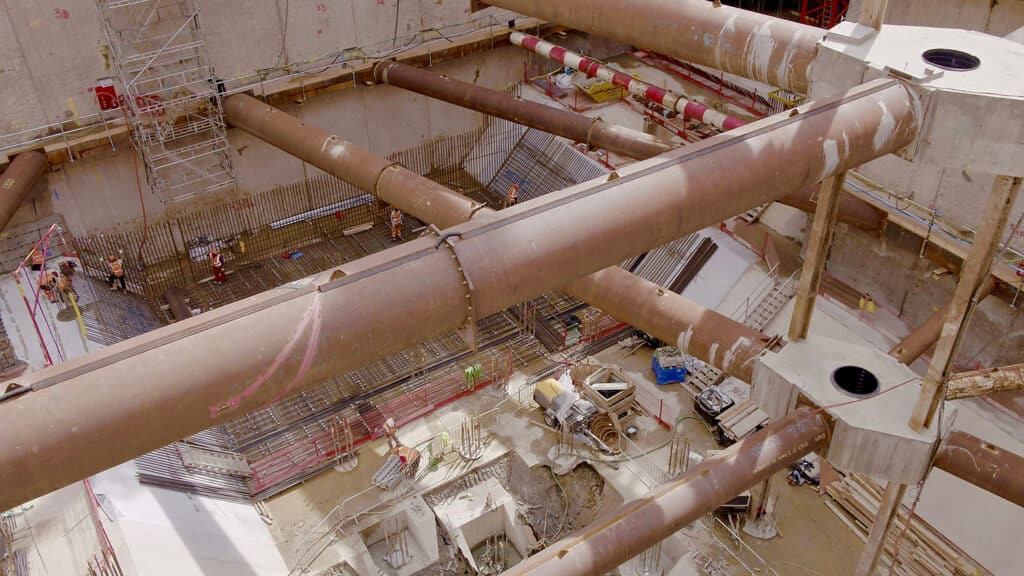 The low down
The deepest point is 28.5 metres below ground and the basement measures 87 metres long by 67 metres wide.
80,000 cubic metres of ground has been removed from the site. This is the equivalent of around 640 London buses.
With five storeys below ground and six above, the height of the building (including below ground) is 57 metres, making it equivalent to London's Tower Bridge.
Below ground there will be:
A multi-storey gantries for the proton beam therapy equipment.
Two Mechanical and Electrical plant levels
Two floors for patient proton beam therapy care,
Eight surgical theatres.
Above ground there will be 6 floors which include Europe's largest centre for the treatment of blood disorders.
300 number of people have been involved the excavation.
3000 number of people will be involved in the construction overall
More than 12% of the staff working on the site live in Camden
Key partners in the successful delivery of the excavation for UCLH have been:
Scott Tallon Walker Architects, architect and lead consultant.
Campbell Reith, structural, civil, geotechnical and environmental engineering consultants.
WSP, leading the mechanical, electrical, and plumbing design and the interface with the different contractors.
McGee, responsible for the bulk excavation and main propping of the centre.
Fayat Piling Ltd, responsible for the piling and diaphragm wall of the centre.
Reach Active Ltd , responsible for all service diversions and utilities