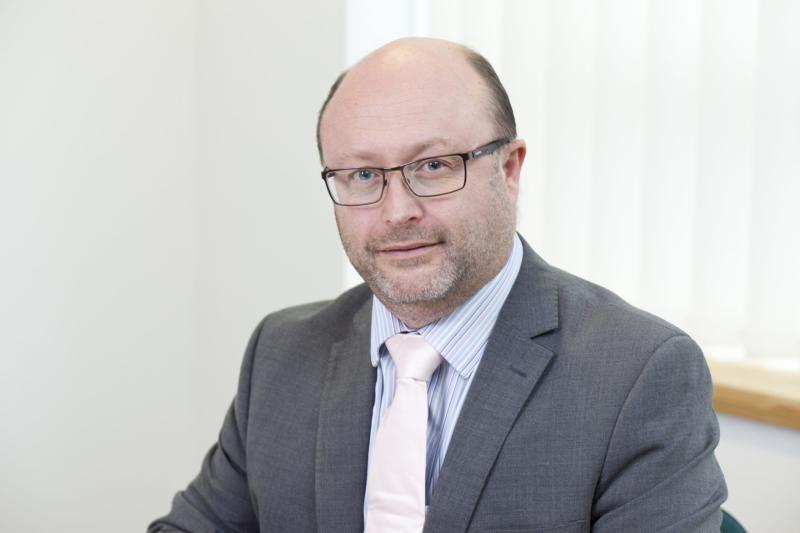 CSR, Our Team
13/11/2020
Leigh Hughes named Property Diversity Champion of the Year
---
On Monday 9th November, it was announced that our CSR Director, Leigh Hughes has been named Property Diversity Champion of the Year at the Wales Property Awards 2020. The Awards, launched by Insider in 2006, celebrate the achievements of property and construction companies and individuals across Wales.
The Property Diversity Champion of the Year Award was introduced to recognise an individual who has helped to develop and celebrate a more diverse property and construction industry in Wales. Leigh Hughes, who has often been praised for championing females in the industry and supporting people with disabilities, is therefore the perfect prize winner.
We spoke with Leigh to ask him what this award meant to him.
Leigh, congratulations on your achievement. What makes celebrating diversity so important to you in your role at Bouygues UK?
Thank you, it was definitely some good news to start the week! As CSR Director and Chair of the Cardiff Capital Region Skills Partnership, celebrating diversity is naturally a big part of what I do. For me, promoting the industry as a credible option no matter what the individuals background, gender, race or ethnicity, is a passion of mine. In my role as Chair of CITB Nations Council in Wales we recognise that the need for skilled people is in demand more now than ever before. We, therefore, need to break the cycle of the traditional type of person that the industry attracts. Over my 30 years in the industry I have seen lots of progress made in this area and have supported many initiatives to try and address this including Women in Construction, working with DWP to become a disability confident employer, being the first construction company to train as Fairness Inclusion and Respect ambassadors and supporting health & wellbeing initiatives. However, when you look at the diversity of our industry, I still believe we have a long way to go. Being able to recognise the issue and finding true partners with whom to collaborate will not only make our business stronger but will also have a positive impact on what the future looks like in construction. This chance to make a difference is really important to me. My experience of working in the industry is that there is a place for everyone. Furthermore, we have a duty as an industry to be more reflective of the clients we work with and the communities we work in.
What makes Bouygues UK's CSR strategy so successful?
I believe it is our holistic approach. At Bouygues UK, we have spent time developing our CSR policy and the action plans we have put in place to deliver this. We have introduced a CSR steering group and key working groups linked to priority actions including diversity & inclusion, health & wellbeing and Mental health. We are supporting the STEM ambassador programme to raise awareness of construction as a career to students including the more talented and able students and will soon be launching this initiative to staff.
One area of our work in which we are particularly strong are our education initiatives. Our approach here is to start from the classroom. We have developed construction lesson plans and teacher resources aligned to the curriculum. We believe that while it is important to enforce the work we do with children and young adults, like providing work experience opportunities, giving CV guidance and running mock interviews, one of the most crucial factors in breaking the mould is educating parents, careers advisors and teachers. These adults are highly influential in the lives of the pupils we work with and yet, often they hold the belief that the construction industry is not suitable. We run Parent, Career advisor/Teacher Workshops to help break down this stigma, to ensure that they feel able to promote the construction industry to everyone.
What does Social Value mean to Bouygues UK?
Social Value is of high importance when it comes to the Bouygues UK approach to doing business. It is a term with many meanings, but we define it as all that we do to enhance the people's lives and communities within which we work. We do this by ensuring we always work with a good moral compass in mind, improving the conditions of the wider community to reduce inequality, improve wellbeing, and deliver prosperity for all. The Bouygues Group is a global business but fundamentally a family business with family values that transcend into each and every one of its subsidiaries. This makes Social Value feel like a natural prospect to Bouygues UK and we take pride in all that we do to deliver a sustainable built environment that creates a better life for communities.
Leigh Hughes will also be on the panel at the National Social Value Wales conference on the 17th November. We are proud to be headline sponsors for the event. Over the course of the inaugural conference in Wales, our colleagues from the Social Value team, Alison Howe, Social Value Advisor and Jeff Joseph, Head of Social Value, will be delivering a workshop entitled "Just Another Challenge". The session will delve into how Bouygues UK continue to deliver Social Value and Community Engagement despite the challenges in the world today. You can expect to find out about just how much Social Value means to us, why we got involved with the Social Value Portal, as well as some of the great initiatives that we've been a part of and have brought to life.
Click here to register for free to be a part of the conference.