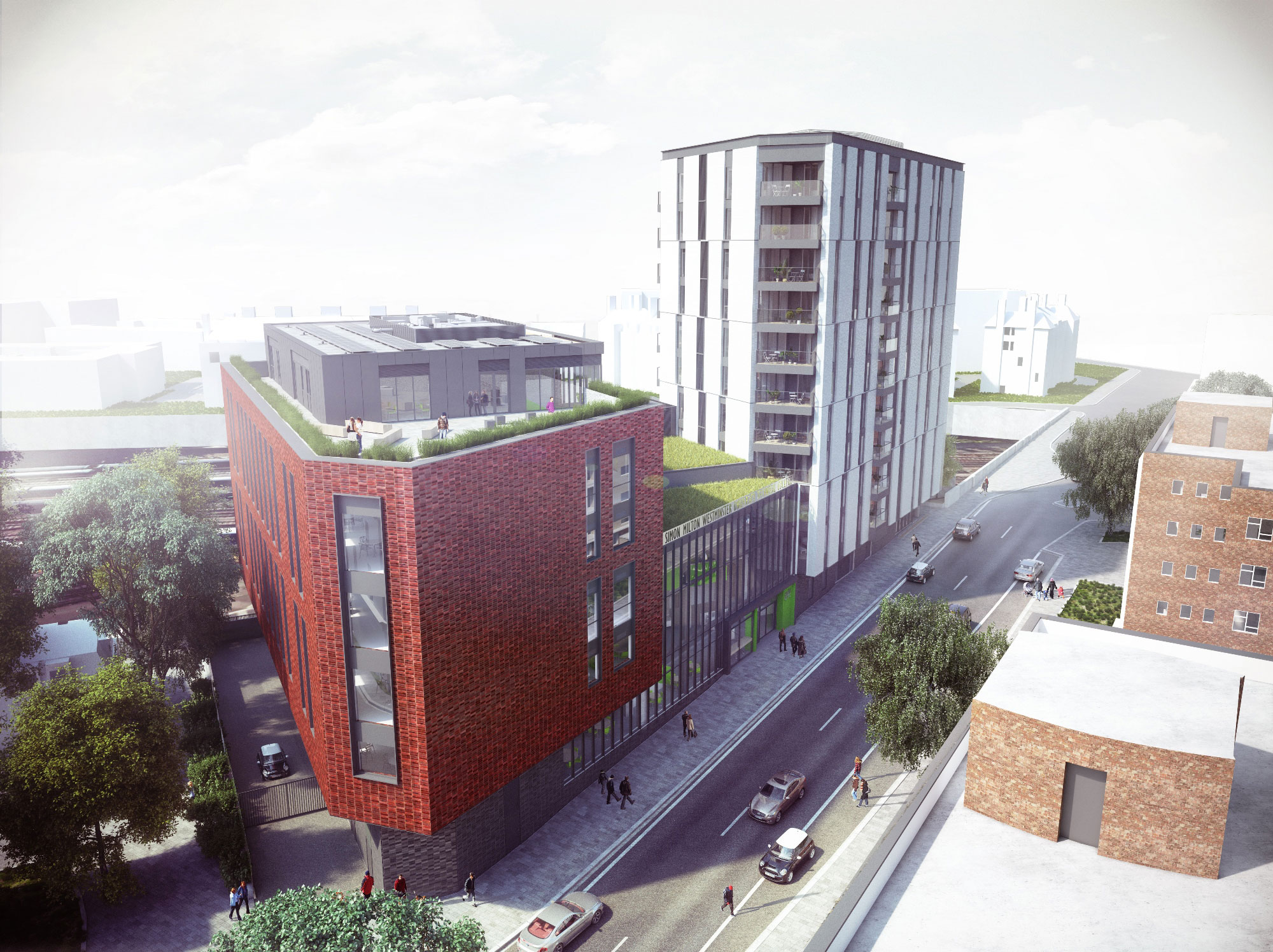 Our Projects
27/07/2016
Linkcity signs agreements for new development at former Ebury Bridge Centre
---
Linkcity, formerly known as Bouygues Development, has signed agreements with its partners to develop a £65 million (GDV) education and residential development in London's SW1 at the location of the Ebury Bridge Centre. Taylor Wimpey Central London has agreed to purchase the residential element of the scheme and Westminster City Council has signed a lease for the educational facility, which will be leased on to the Sir Simon Milton Westminster University Technical College.
The former Ebury Bridge Centre is on Sutherland Street, close to Sloane Square, Pimlico and Victoria underground stations. The building, designed by award-winning architect Sheppard Robson, will comprise an 11-storey residential tower with 47 one, two and three-bedroom apartments and a new 56,000 sq ft University Technical College (UTC). The half-acre site will also include 23 secure underground car parking spaces.
The UTC is to be called the Sir Simon Milton Westminster University Technical College, in memory of the City of Westminster's inspirational Council Leader and London's former Deputy Mayor for Planning and Policy. The college will specialise in transport and construction engineering. Partnerships with major employers include Network Rail, Transport for London, Crossrail, Alstom, BT Fleet, Land Securities and Sir Robert McAlpine. The college building will include workshops for engineering, a gym and sports facilities, as well as a large outdoor terrace.
Work on site, which is being carried out by main contractor Bouygues UK, has already begun. The University Technical College will open in September 2017, while the residential tower is set to complete in 2018.
Applications open in September 2016. If you are a student or parent and you want to find out more about the Sir Simon Milton Westminster UTC please contact Dee Burn at D.Burn@westminster.ac.uk or on 020 3506 9277.
Linkcity's Managing Director, Nicolas Guérin, said: "This central London development is a perfect example of the kind of project we relish working on: in partnership with Westminster City Council and Taylor Wimpey Central London, we are creating a valuable new amenity for the local community that will have a significant positive impact on the lives of young people in the area, as well as 47 high-quality new homes in a prime central location. With a green roof, PV panels, and a scheme to run off Pimlico District Heat Undertaking rather than its own boilers, the development is also taking an intelligent and connected approach to sustainability."
Karen Barker, Principal Designate of Sir Simon Milton Westminster UTC, said: "The deal signed with Linkcity paves the way for the Sir Simon Milton Westminster University Technical College to become a reality. It will be a centre of learning excellence, providing high academic standards and a clear line of sight to professional, technical careers for the young people of London. Sponsored by the University of Westminster, and with an unrivalled Employer Alliance, we look forward to the UTC opening its doors for 14-18 year olds in 2017."
Cllr Robert Davis MBE DL Deputy Leader of Westminster City Council, Cabinet Member for the Built Environment and Trustee of the Sir Simon Milton Foundation, said: "Work beginning on this life changing educational establishment in the heart of Westminster will unlock the potential of the City for the next generation of transport and construction engineers. This new world-class facility will be an asset to the community; supporting regeneration and bringing more than 200 young people to the area to live and study. Together, we are providing young Londoners with the opportunities to help them make the best of their lives and talents and to realise their true potential."
Ingrid Skinner, Managing Director of Taylor Wimpey Central London, said: "Located between the ever popular residential areas of Pimlico, Chelsea and Belgravia, the apartments at this high-quality scheme will offer exceptional living in prime central London, close to excellent transport links and amenities."