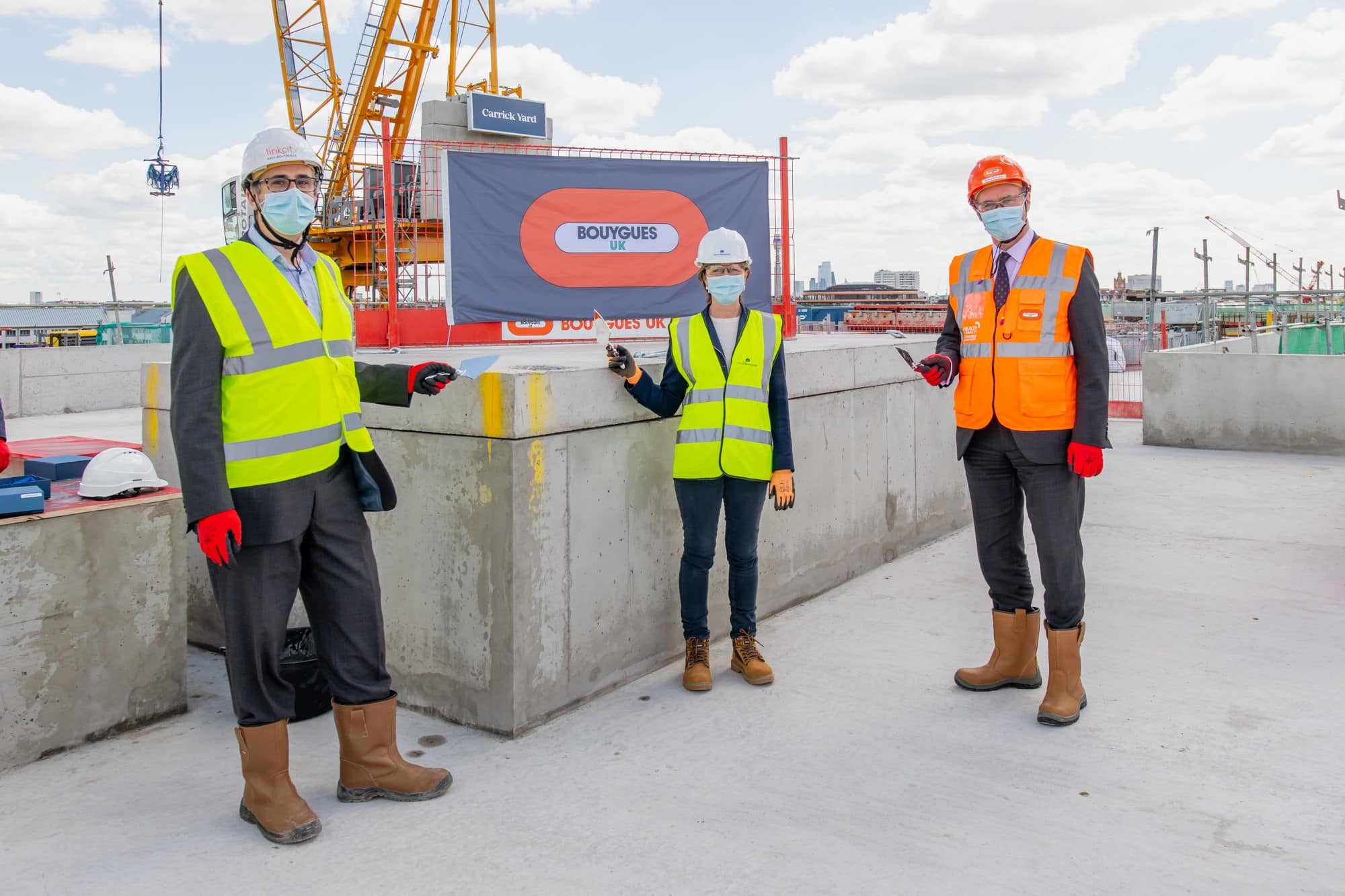 Our Projects, Press Releases
01/06/2021
Luton Street development reaches major milestone with topping out ceremony
---
The Luton Street project for Westminster City Council reached a major milestone as Bouygues UK completed the highest point of the build.
The topping out ceremony saw Bouygues UK, Linkcity and Westminster City Council all come together to celebrate this key milestone in delivering the Luton Street development. Bouygues UK has been working closely with property development sister company, Linkcity, and Westminster Builds, Westminster City Council's self-development arm, to deliver the Luton Street project and build 1,750 homes for Westminster City Council as part of their ambition to create a 'City for All'. Luton Street is one development within the Church Street regeneration programme.
The development will see the creation of 171 new homes, with 62 affordable homes provided at social rent. As well as new high-quality homes, a sports hall and community space are being built which will benefit members of the Church Street community.
The new homes will be surrounded by a green pathway between Fisherton Street and Salisbury Street, called the Green Spine.
The development at Luton Street began in September 2019 and is due to be completed in 2022.
Bouygues UK Chief Executive, Rob Bradley, said:
"It is very rewarding to mark the progress of a project which will have such a positive impact on the residents of Luton Street and the wider community. This is one of many projects we have delivered for Westminster City Council and a scheme we are very proud to be involved in, providing good quality, affordable new housing and community spaces for one of London's most vibrant communities."
Linkcity Managing Director, Axel Boutrolle, said:
"We are very pleased to be celebrating progress on this landmark scheme, providing 168 much needed high-quality new houses alongside community facilities and public realm for the local community. Luton Street is an important first step in Westminster's City Council's Church Street regeneration programme and we are very proud to be working in joint venture with Westminster Builds a part of such transformational development."
Cllr Heather Acton, Westminster City Council Cabinet Member for Communities and Regeneration, said:
"Luton Street is one of many sites being developed in Church Street as part of our unprecedented regeneration programme which will provide new, sustainable and affordable homes plus improved facilities for the community. The additional homes are recognised as much needed in the area and we want local people and businesses to remain at the heart of this strong, vibrant and diverse community.
"It's brilliant to see how far we have come with this site after working closely with local residents to ensure the building is the right scheme for the community, and I'm very much looking forward to seeing it completed next year."