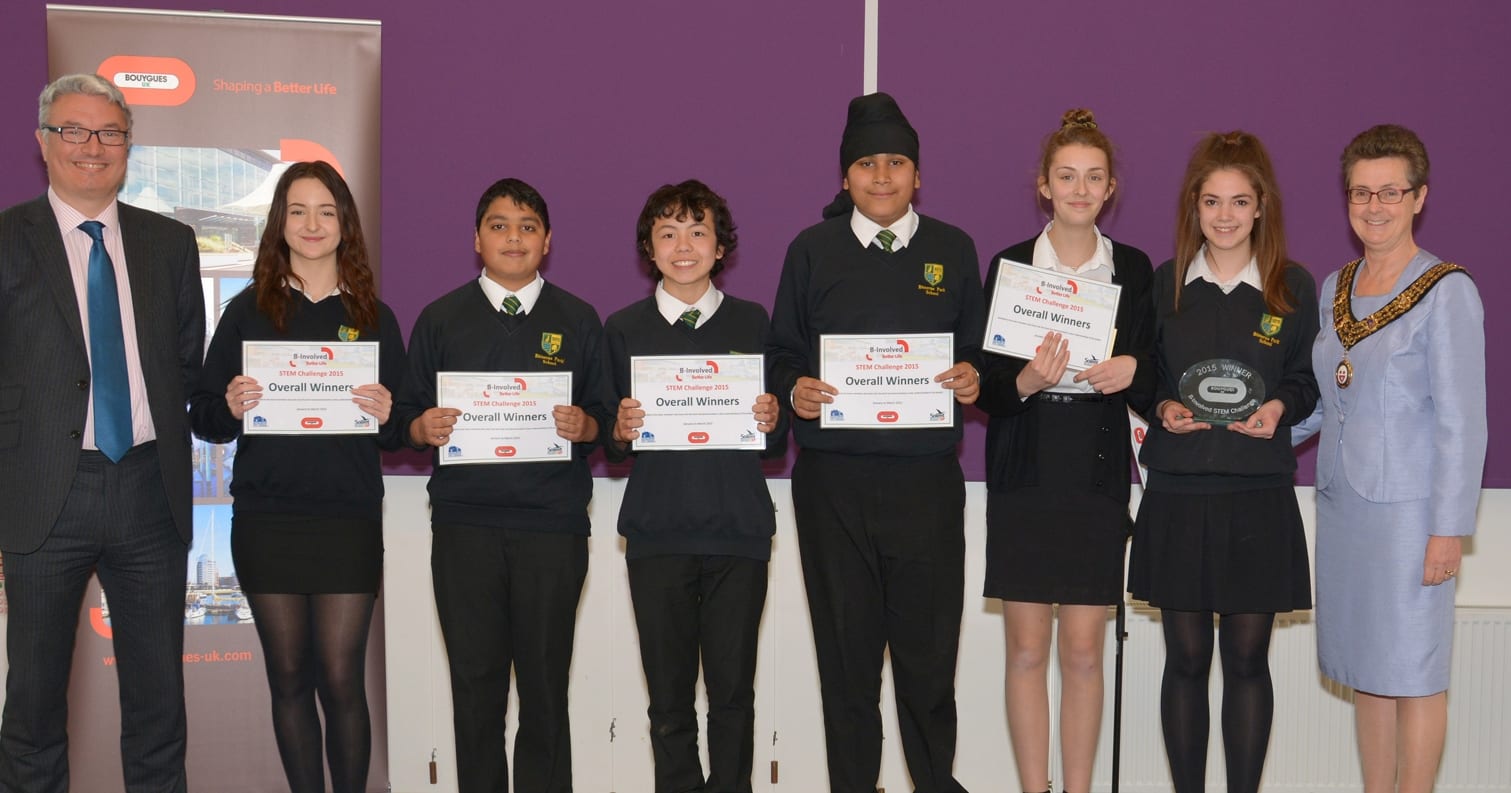 CSR
10/04/2015
Southampton school victorious in annual county-wide competition
---
The winners of the 2015 inter-schools STEM Challenge competition have been announced, following a hotly-contested live finale.
Fourteen teams representing ten schools from across Hampshire took part in the annual competition, now in its seventh year. The contest is aimed at schoolchildren aged between 13 and 14 and designed to get pupils flexing their intellectual muscles; putting the science, engineering, maths and technology (STEM) education they receive in the classroom into practice.
Using a live construction site as the basis for their ideas – in this case, the student accommodation scheme on St Mary's Road, which is being built by Bouygues UK – students were tasked with developing creative, practical solutions with the potential to improve the environmental and sustainability credentials of a new build project.
The competition was popular, with some schools submitting two teams for the event. However, the main gong went to pupils from Bitterne Park School on Copsewood Road in Southampton, who were crowned overall STEM Challenge champions after impressing the judging panel with their presentation.
Among their ideas were plans to use special glass to retain thermal energy and regulate the temperature of the building, reducing the consumption of non-renewable energy.
What particularly caught the judges' attention, however, was the idea of using an 'up only' lift, where people would then have to take the stairs if they wanted to go down to a lower floor or exit the building.
A Bouygues UK spokesperson, explained: "The winning team tapped into a fairly new and creative concept, where the kinetic energy – that's energy that people use when carrying out every day activities, in this case walking – is harnessed through pads underneath the flooring and then reused, say to power lighting. Bitterne Park pupils calculated that they could reduce CO2 emissions by three million tonnes per year using this system and, of course, reduce energy costs. It's an impressive idea and shows how the students were able to use their education and, with some additional research and guidance from their mentor, come up with an inventive way to deal with issues around energy consumption."
Factoring in accessibility needs was something that had also been considered by the students, who recommended a key card for people with mobility issues, for example, to be able to override the lift system.
Praising the creativity of the teams who had taken part in this year's competition, Mayor of Southampton, Cllr Sue Blatchford, said: "The presentations from this year's STEM Challenge competition show the pupils were thinking laterally, creatively and, importantly, about sustainability. More than that, it sounds like they were having great fun, too.
"The UK construction industry is one of the biggest employers in the country, with one in every ten people working in the sector in one way or another – and that number is set to grow. Partnership events like this, where the council is working closely with local companies like Bouygues UK, our EBP and Southampton City College as well as local schools, will hopefully encourage more young people to think about the numerous careers in the construction industry, which is forecast to create hundreds of thousands of more jobs over the next few years."
Bouygues UK's spokesperson added: "Companies like Bouygues UK have a vested interest when it comes to encouraging students to continue with their education in science, engineering, maths and technology. At the moment, the subjects are undersubscribed when it comes to students choosing these subjects for further education; and this is reflected in the low number of new people who are entering these professions.
"Every single one of the students involved has the potential to be part of our future workforce. It's our duty to show them what the construction industry is really like; how exciting and creative it can be and to encourage them to continue with these subjects so they can join the industry and grow with us."
STEM Challenge is the result of a partnership between construction company, Bouygues UK, and Southampton City Council and the competition was once again supported by Southampton City College and Solent Education Business Partnership.
This year the STEM Challenge has also been accredited by Industrial Cadets, which is an independent organisation, supported by HRH Prince Charles. Students will receive a bronze level award from Industrial Cadets for taking part this year.
List of schools that took part in this year's STEM Challenge:
Mountbatten*
Fareham Academy*
Highcliffe*
Bishop Challoner*
Compass
Sholing
Woodlands
Applemore
Bitterne Park
Oasis Academy Mayfield
*These schools had two teams involved in the competition