18 January 2022
The sky is the Limit with Bouygues UK's Learning and Development Opportunities…Quantity Surveyor, Michelle Hanmer, talks about her journey with Bouygues UK since joining the business as a Receptionist in 2008.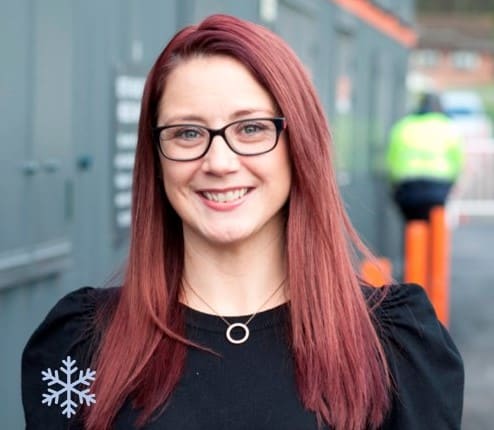 She once dreamed of welcoming passengers onto a Boeing 747, but instead Quantity Surveyor Michelle Hanmer is now flying high with Bouygues UK.
"An air hostess," Michelle replied when asked what she wanted to be when she was in school, "I could never have imagined myself working on a construction site back in those days!"
And yet, thanks to the learning and development opportunities made available at Bouygues UK, today, Michelle finds herself now working directly on one of our projects in Wales.
This is not, however, how her career with us started. Responsibility for the procurement of high value subcontract packages was, in fact, the furthest thing from Michelle's mind when she first walked into the Cardiff office on January 2, 2008. For Michelle, 'New Year, New Career' really did ring true – even if she didn't realise it at the time.
"When I started looking for jobs, I had no particular aspirations to work in construction," Michelle admits. "I'd had some previous admin experience and the job I applied for on reception with Bouygues UK just seemed like a good fit."
Once she had found her feet, Michelle gradually started to take on additional responsibilities, helping the commercial team with work on legacy jobs and insurance claims. It was then that Michelle's career really started to take off.
"I enjoyed a lot of the new things I was learning and started to think that working at Bouygues UK could be a career and not just a job," Michelle explains. "I asked about the possibility of getting some support to go back to College to get some formal qualifications through the commercial route and it just went from there. "
Bouygues UK agreed to fund and support Michelle's return to college on a day release basis across three years – firstly, to gain a BTEC Level 3 in Construction and the Built Environment, before moving on to complete a two-year Foundation Degree in Sustainable Construction and Technology.
Career progression quickly followed; Michelle was awarded a promotion in 2015 to the role of Assistant Quantity Surveyor and the chance to work on site for the first time after successfully completing the one-year BTEC qualification.
"I went to work at Atrium 2B in Cardiff and that really helped me gain some practical experience to complement the work I was doing on the foundation degree," Michelle says. "Not only that, but my colleagues on site were always available and supportive whenever I needed help with assignments and my final dissertation."
Michelle successfully passed her foundation degree in 2017 – but the journey was not without its moments of turbulence due to the stresses and strains of balancing work, studies, family life and childcare.
"There were tough moments," Michelle says, "but to see how my career was developing was very rewarding and a real motivation to keep going. The business and the directors were also understanding and fully supportive."
Michelle has since worked on our projects, Ysgol Cwm Brombil and Cardiff Innovation Campus, prior to joining her current team, and was last year promoted to Quantity Surveyor.
"It's been a great journey," Michelle says. "I feel extremely lucky and grateful for the opportunities I have been given at Bouygues UK. I would say to anyone in the business that it is definitely worth finding out what is available to them."
At Bouygues UK, it is always so rewarding to hear success stories like Michelle's. We all start somewhere, and Michelle should be very proud of what she has achieved. She is a fantastic advocate of how your actions today will determine your potential for the future.
If you'd like to begin your career with us, click here to find out more about what we offer.