The North Middlesex University Hospital project upgraded the existing hospital's capacity and facilities, resulting in an exemplary modern healthcare environment. The scheme involved building a significant new hospital and a substantial refurbishment of two existing buildings in a live and operational hospital site.
Overview of the Project
The Trust's aspiration was to create a new campus bringing place-making, wellness and daylight to the forefront of the hospital design whilst significantly increasing its capacity and facilities.
New and refurbished facilities, linked by atrium bridges, created a highly serviced single hospital environment, with clinical facilities centred on patients' needs and improved pathways for all users.
The project comprised the overhaul of one third of the existing Edwardian hospital along with a new 33,000m² building providing five in-patient wards, 150 beds, eight operating theatres, a Linac Chamber for a 10Mv Linac, a state-of-the-art diagnostics centre, a spacious outpatient's ward and an Accident & Emergency department that has become the biggest in North London.
As part of the PFI deal, we continue to deliver soft and hard Facilities Management through our sister company Bouygues Energies & Services. The hospital grounds and gardens received a "best in London" accolade from the London Gardens Society four years in a row between 2013 and 2016. This is a proof positive of our ongoing commitment to delivering high standards in service quality.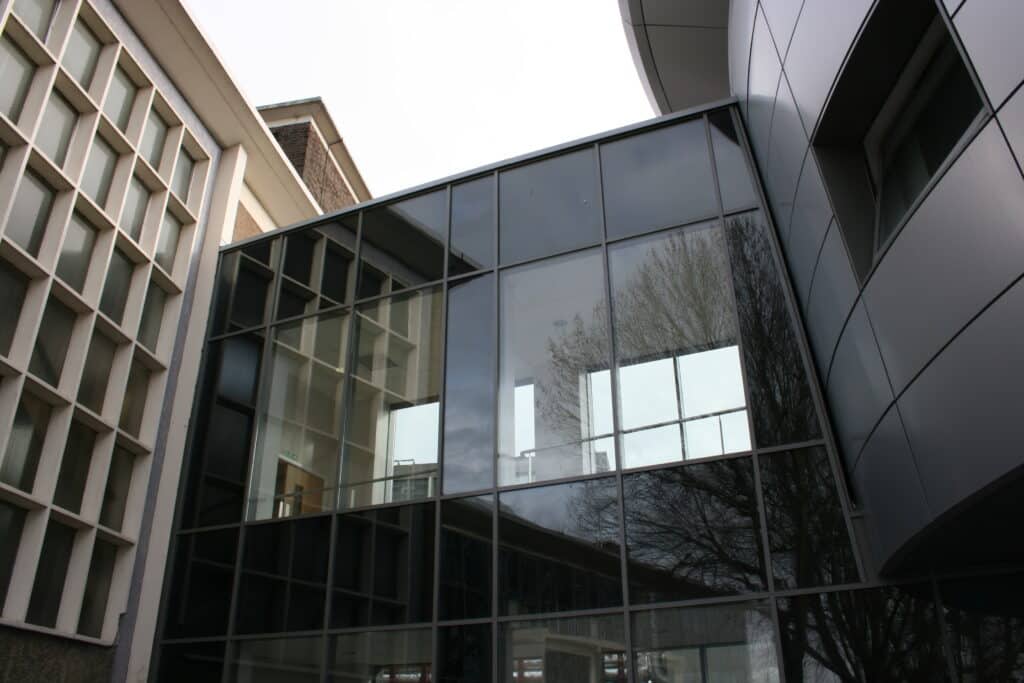 Delivering a Clinical Healthcare Facility
We delivered the project successfully by:
Early and effective design management
Involving the Trust, end-users and other stakeholders in a series of workshops held through the design development stage
Selecting the right partners from amongst our extensive local and international supply chain
The construction of a Chamber for a 10Mv Linac was a particular challenge as it was connected directly to the Oncology department, which continued to operate throughout. The walls of the Linac abutted the existing building precluding access to the rear.
At the time, the Trust had yet to select its preferred supplier for the Linac. We therefore discussed options with them and submitted a proposal to construct the unit using a combination of heavyweight concrete and steel plates. This solution offered the Trust the flexibility to opt for a larger Linac should the funding became available (which it subsequently did).
In designing the mass concrete structure we were able to call on the expertise of our technical team both here in the UK and in Paris where Bouygues has a concrete laboratory (Pole Ingénieure Matériaux) specialising in this type of design, which, incidentally is also used by our colleagues in the nuclear industry.
We prioritised the design of this structure to give all parties ample time to review the proposals and approve the documents.
At construction stage, we tested a series of concrete mixes to identify which one offered the required strength without the risk of cracking. Our concrete experts, in conjunction with our site based structural engineers, then developed a Method Statement for pouring, and subsequently managing the cooling, of the mass concrete pours using embedded thermocouples and thermal liners.
We carried out these works using our in-house concrete team, thereby giving us full control over the timing and quality of construction.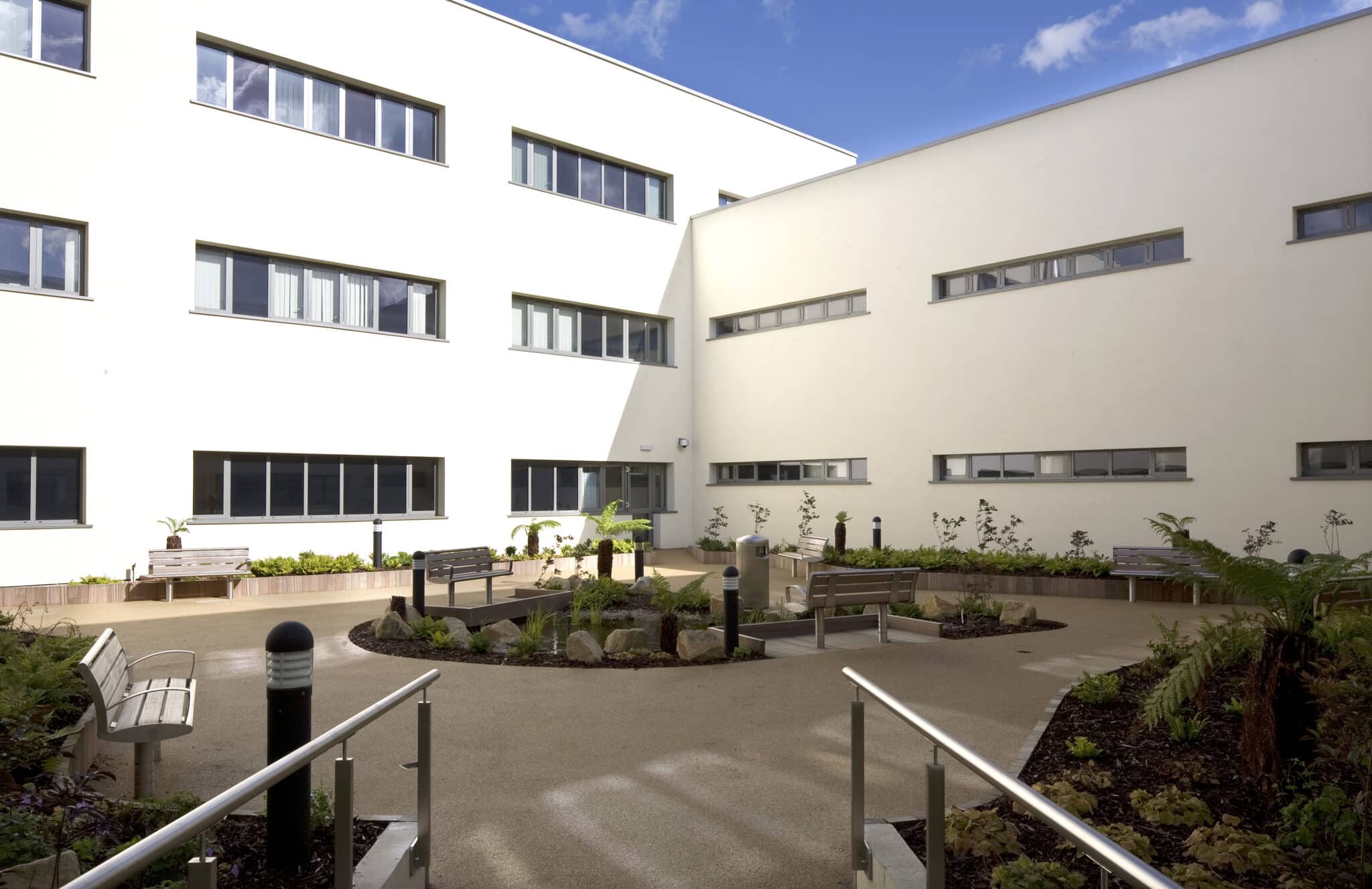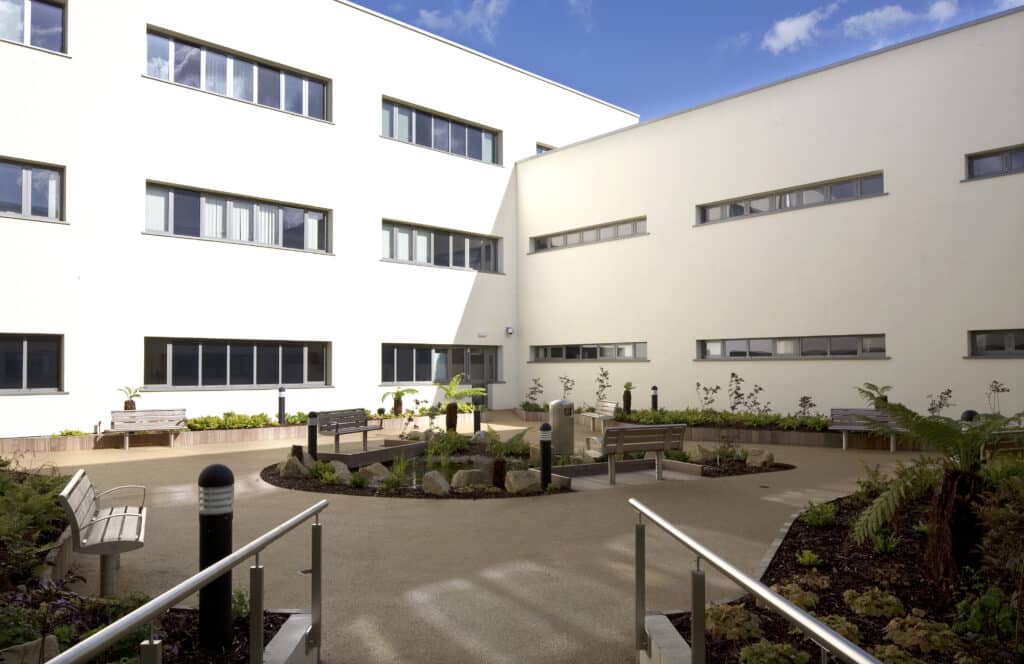 Construction in a Live Hospital Environment
The works were carried out within a live premises. We therefore always took all the environmental and logistical measures necessary to keep the existing hospital fully operational. This included maintaining the availability of all associated infrastructure including access roads and car parking.
Our highly experienced Methods and Engineering department was instrumental in developing the strategy for constructing the buildings efficiently and with as little disruption as possible. We engaged with the Trust to collate comprehensive information as to all the local constraints, including details of its planned operations, and to understand specific requirements in relation to access, egress and circulation. The strategies adopted were captured in a set of detailed phasing drawings for each stage of the works designed to mitigate risk and minimise any disruption.
Efficient communication with the Trust and the wider stakeholder group remained the key to effective decision-making throughout the various phases of demolition and construction. This included reaching agreement on practical solutions relating to utilities and access diversions, sequencing of works, noise attenuation and monitoring, dust control and site delivery strategies. It also extended to the collective scrutiny and approval of other sub-contract method statements.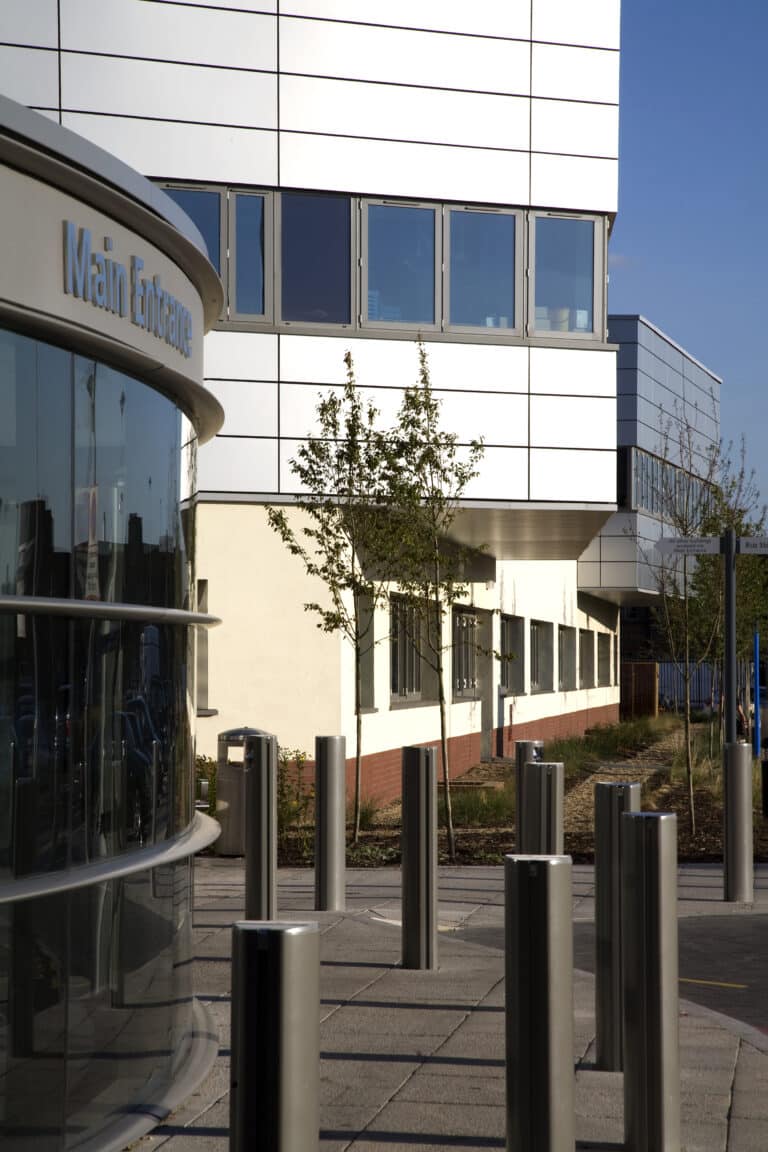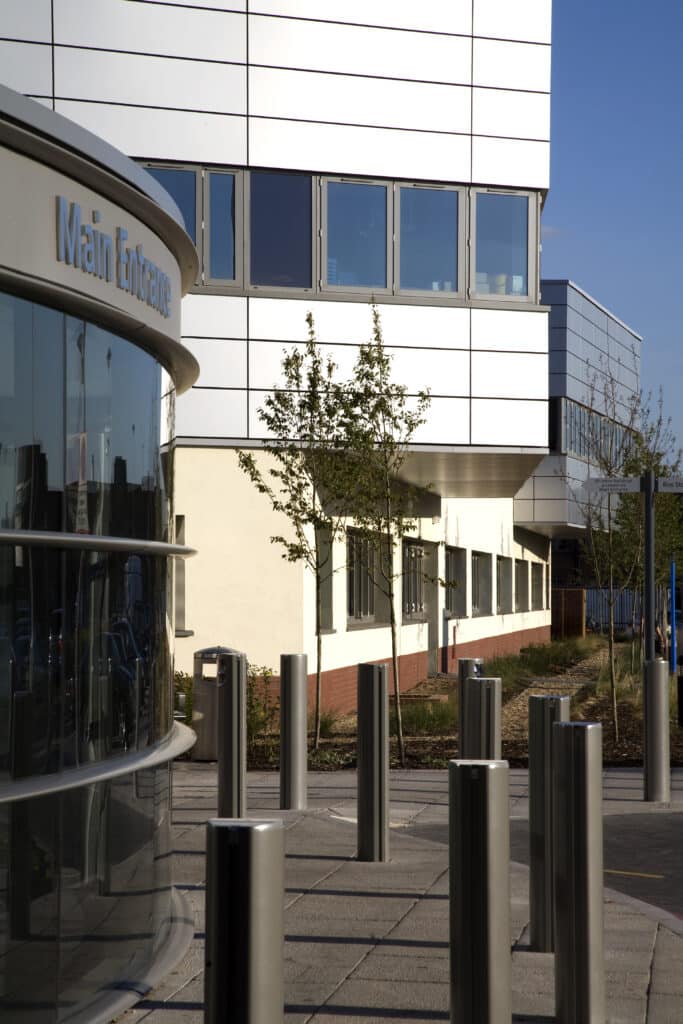 Once on site, we needed to remain flexible and reactive in order to adjust to unforeseen site conditions. This was reinforced by careful sequencing within the construction programme. We analysed the critical path and allowed sufficient float to cater for such potential risks. This approach allowed us to deal with several substantial drainage diversions for example, some of which were below the link building and required temporary propping of the link in order to carry the works below.
We continued to revisit and update our methodology and sequencing of the works regularly to reflect the evolving operational needs of the existing hospital and to cater for changes in site conditions. An ongoing schedule of meetings and transparent dialogue promoted an atmosphere of trust and openness in the wider team. It allowed us to collectively review, agree and, where necessary, amend our delivery strategy so as to fully mitigate any impact on the live operations and ensure business as usual. As a result, we maintained a very strong working relationship throughout the project.
Working Together with our Client
We have considerable experience in designing and constructing major hospitals projects in restricted urban locations and operational environment. This experience has been gained on many complex projects and consolidated our ability to work closely with the client teams, our capability to manage and mitigate the design and build challenges and our commitment to deliver on our promises.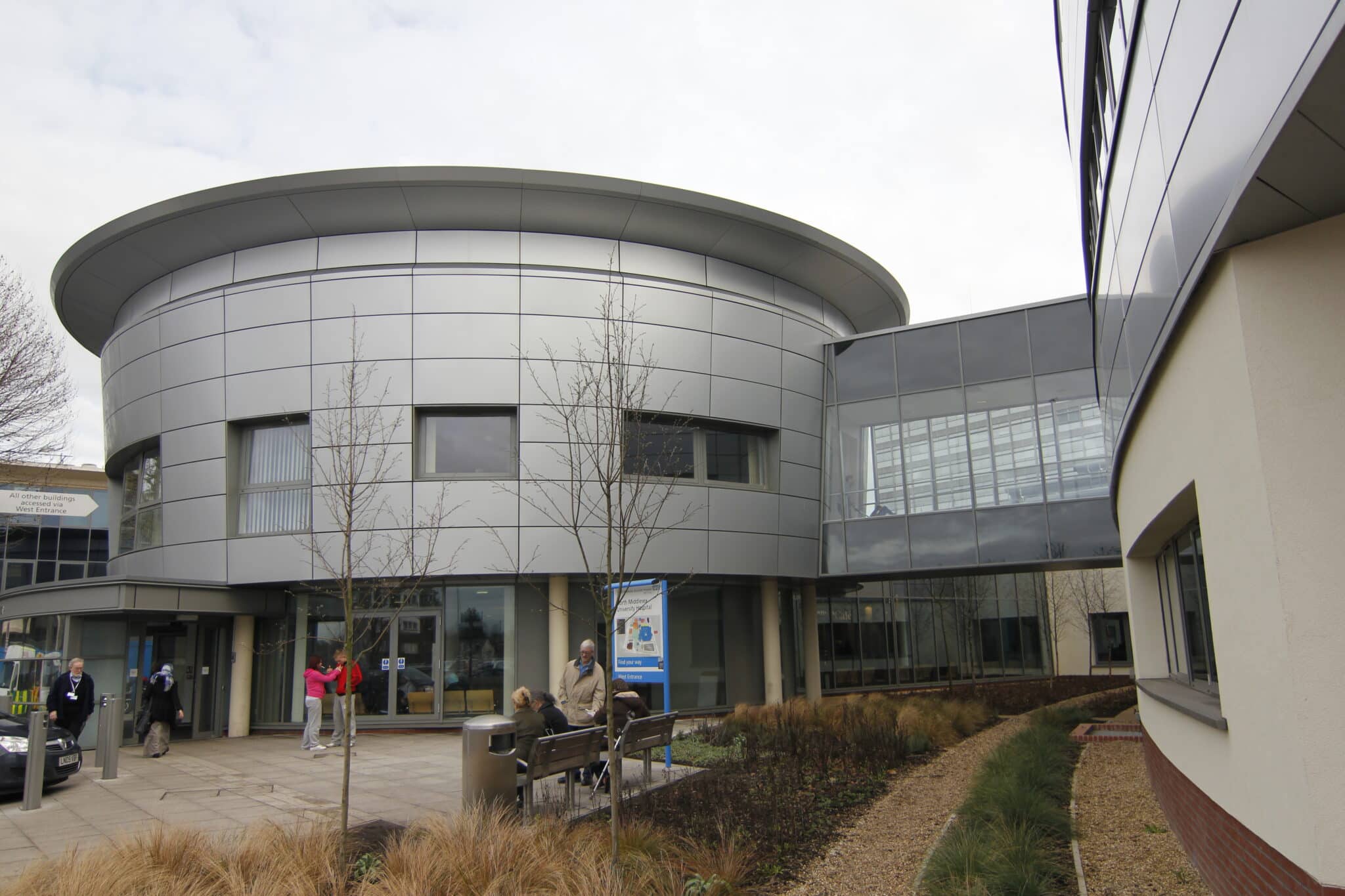 ---
University College Hospital Grafton Way Building & Proton Beam Therapy Centre

Barnet Hospital Barnet and Chase Farm Hospital NHS Trust

Broomfield Hospital Mid Essex Hospital Services NHS Trust

West Middlesex University Hospital