This £191M project is one of only two such centres in the UK, offering advanced proton beam radiotherapy used to treat complex cancers, primarily in children. The site is also home to Europe's largest blood-disorder treatment centre and a shortstay surgical service.
Once complete, this modern purpose-built hospital will include 135 patient beds for specialist care, a complimentary state of the art Short Stay Surgical Centre, and a proton beam box which houses the cyclotron, the beam-line (which transports the protons), and the four treatment rooms where the therapy is administered through 'gantries, all constructed as far as 27m underground.
the building height is equivalent to London's Tower Bridge.
UCLH Proton Beam Therapy Centre is located in the heart of London's West End surrounded by busy shopping streets, Tottenham Court Road and red transport routes.
Proton beam therapy is a form of radiotherapy used to treat cancer which can be targeted extremely precisely, causing minimal damage to surround tissue. Due to the very nature of the treatment the Cyclotron (the particle accelerator that produces the proton beam) has to be located in the specialist basement.
The design of the Proton Beam Therapy Centre is such that below ground the deepest point is 28.5 metres and the basement measures 87 metres long by 67 metres wide. In the basement there is:
A multi-storey gantries for the proton beam therapy equipment
Two Mechanical and Electrical plant levels
Two floors for patient proton beam therapy care
Eight surgical theatres.
Above ground there is 6 floors which include Europe's largest centre for the treatment of blood disorders
The Challenges
The main challenges that faced us were:
The Northern Line tunnels are 10 metres away from the western side of the excavation
Surrounding streets house significant sewers and utilities
Excavation of 80,000 cubic metres of ground in central London.
Transportation and installation of the 70 tonnes Cyclotron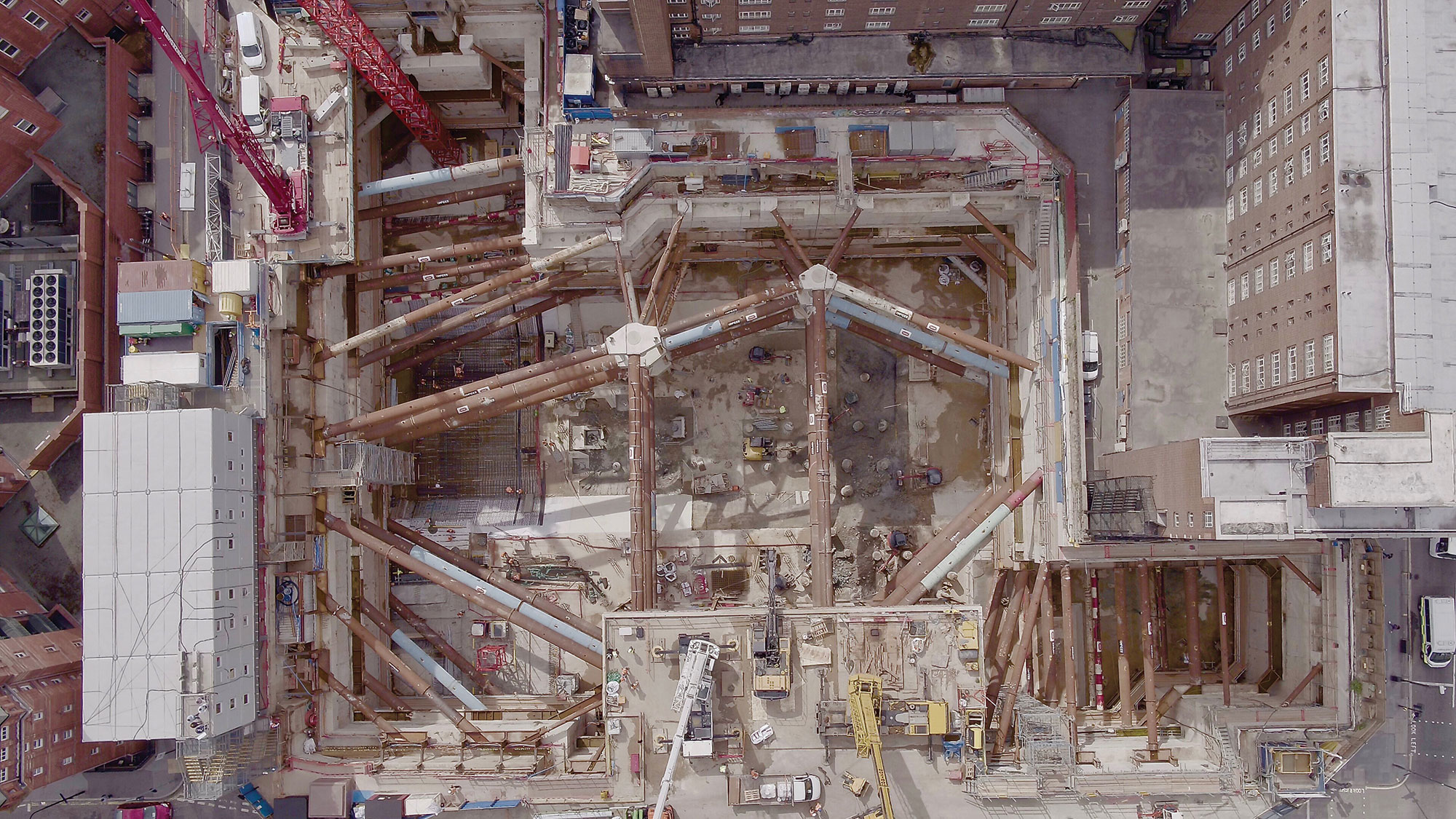 Our Approach
Bouygues UK utilised the expertise of Bouygues Travaux Publics in civil engineering for the crucial deep excavation work for the basement. This is the deepest excavation ever done in London with around 80,000 cubic metres of ground removed from the site. This is the equivalent of around 640 London buses.
The foundation was dug down to the depth of 28 metres, through the water table and within 10 metres of the Northern tube line. To get to that depth we had to construct a diaphragm wall which was shored up by four levels of struts. In order to meet the requirements related to the radiation absorption, walls and slabs of up to 2.5 metres thick were built around the cyclotron.
The consortium of Bouygues UK's experience in hospital construction combined with the expertise of Bouygues Travaux Publics in civil engineering and the construction of nuclear infrastructures is paramount to the successful delivery of this world class facility.
The Proton Beam Therapy Centre is due to open its doors in 2020.
This is exactly the kind of project we relish. The complexity of undertaking London's biggest excavation within a tight site at the heart of central London enables us to add value through our technical knowledge and the infrastructure expertise of our colleagues within Bouygues Travaux Publics. This is no ordinary project: as well as being an innovative and complex build, the finished development will have the potential to improve and even save the lives of those suffering with blood disorders and complex cancers.

Fabienne Viala, Chair of Bouygues UK