London
Bouygues UK was appointed by Taylor Wimpey Central London, one of the United Kingdom's leading property developers, to construct the first phase of Postmark, a new project located in London's historic district of Farringdon consisting of two building complexes. The contract is worth in excess of £100 million.
---
West Central 1 is the first phase of a four-phase masterplan, which will ultimately deliver 681 homes. It consists of 214 homes, ranging from studios to three-bedroom apartments, in a building ranging in height from six to 15 storeys. The exterior development combines resident and public spaces, including a courtyard, a shaded terrace, as well as shops and open landscaped spaces.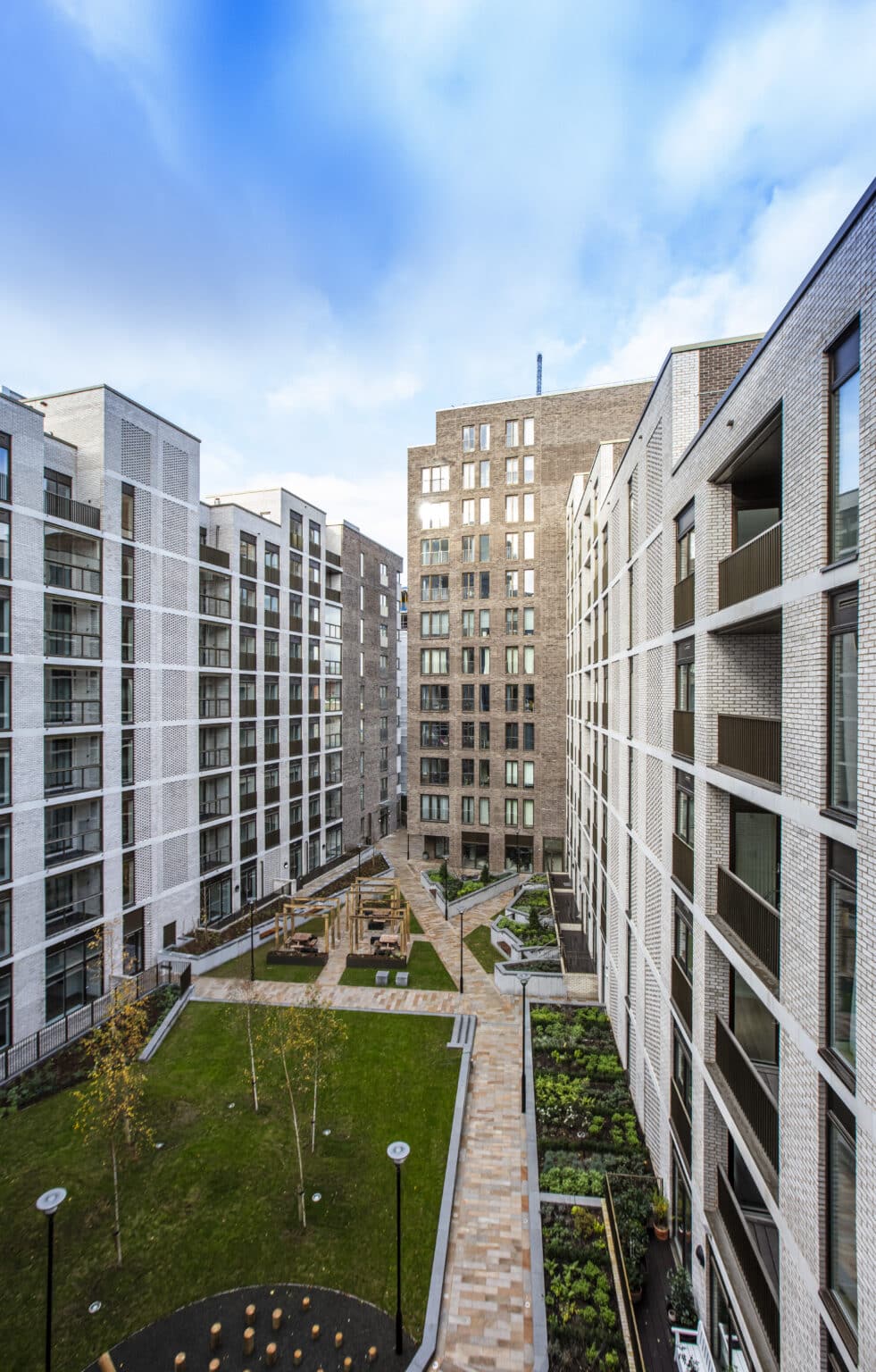 BREEAM 'Excellent' Rating
in the Code for Sustainable Homes Scheme
Considerate Constructors Scores of 40/50
Our Approach
There were a number of constraints on the project, including the presence of a Thames Water sewer beneath the site. There are also many third parties in close proximity, including residences, businesses, a primary school and the Postal Museum and sorting office, some of these are heritage buildings.
Bouygues UK implemented bespoke settlement, vibration and noise monitors on the surrounding heritage buildings that are located directly next to the site. As some of those specific buildings are listed, monitors are unable to be attached to them. To address this challenge, a bespoke TinSAR non-attachable radio settlement monitoring system was installed, allowing comprehensive settlement monitoring while protecting the heritage buildings and their assets.
Modular Construction and Innovation
Modular construction has been used within the Postmark WC1 project in the form of pre-cast stairwell units, which has resulted in works on all storeys being able to start sooner, increasing groundworks efficiency.
BIM has also been utilised as a risk mitigation strategy on the project. Post-design, BIM Clash Detector has been used for simulated test installations. This software has:
maximised the risk identification and development of mitigation strategies
minimised the risk during active works
allowed for saving of materials
increased personal safety
decreased critical path deviation
Corporate Social Responsibility
Postmark WC1 has received a BREEAM Excellent rating and Level 4 in 'Code for Sustainable Homes' scheme, showcasing its high levels of environmental, social and economic sustainability. The project has also received a Considerate Constructors score of 40/50, illustrating Bouygues UK's thorough approach to community engagement, health and safety and workforce wellbeing.
At peak work times 20% of the labour force have been local labourers, and the project has supported 7 apprentices, exceeding the original goal. The project has also supported numerous local charities and remains committed to continuing with community engagement throughout the remainder of the project.
"With its central, high profile location and scale, Postmark is a flagship scheme that we are immensely proud of. For the first phase, we have chosen a trusted partner with whom we have already completed a number of successful central London projects. We look forward to working with Bouygues UK again, bringing forward the first chapter of this landmark project together."

Phillip Jenkins, Managing Director, Taylor Wimpey Central London
Sir Simon Milton Westminster UTC and Ebury Place