Colchester
In 2012 the Uliving consortium agreed a 50 year partnership deal with the University of Essex to design, construct, operate and maintain new student accommodation at its Colchester Campus. Bouygues UK was responsible for the delivery of the scheme, which represents the first part of the University's ambitious 'Knowledge Gateway' development.
---
Further to the success of the project, the University selected Bouygues UK's sister company, Uliving as development partner to deliver the remaining phases of the masterplan which would provide a total of 2,071 student beds.
Code for Sustainable Homes
The Meadows – Project Profile
The Meadows provides two distinct living styles; 420 en-suite bedrooms are arranged in 'cluster' type flats, each accommodating between 5 and 7 students with a shared kitchen, whilst the remaining 228 bedrooms are located in individual 4-storey townhouses, with each townhouse having 12 bedrooms, six bathrooms and a shared open-plan living space with kitchen/diner.
The Meadows also provides a vibrant place to live for the students, centred around the Pavilion – a dedicated 1,100 sq ft social space including a common room, laundry and shop.
All accommodation was built in accordance with performance characteristics required by Code for Sustainable Homes Level 4, and the project overall achieved BREEAM Excellent.
Having little over a year in which to complete the new dwellings, the project timescale was extremely limited. Once the building structures and frames were erected- a task complicated by the site's marshland soil and proximity to a rail line- the tight programme required us to deliver a floor every seven days over a 29-week fit-out period.
Bouygues UK's technical department, working with Uliving, successfully devised a programme around the University's key operations and noise sensitive times such as within the exam periods. This effectively mitigated disruption to the students.
A combination of intelligent design, sophisticated programming and the expertise of our on-site team enabled us to hand over the new housing snag free in time for the start of the 2013/2014 academic year.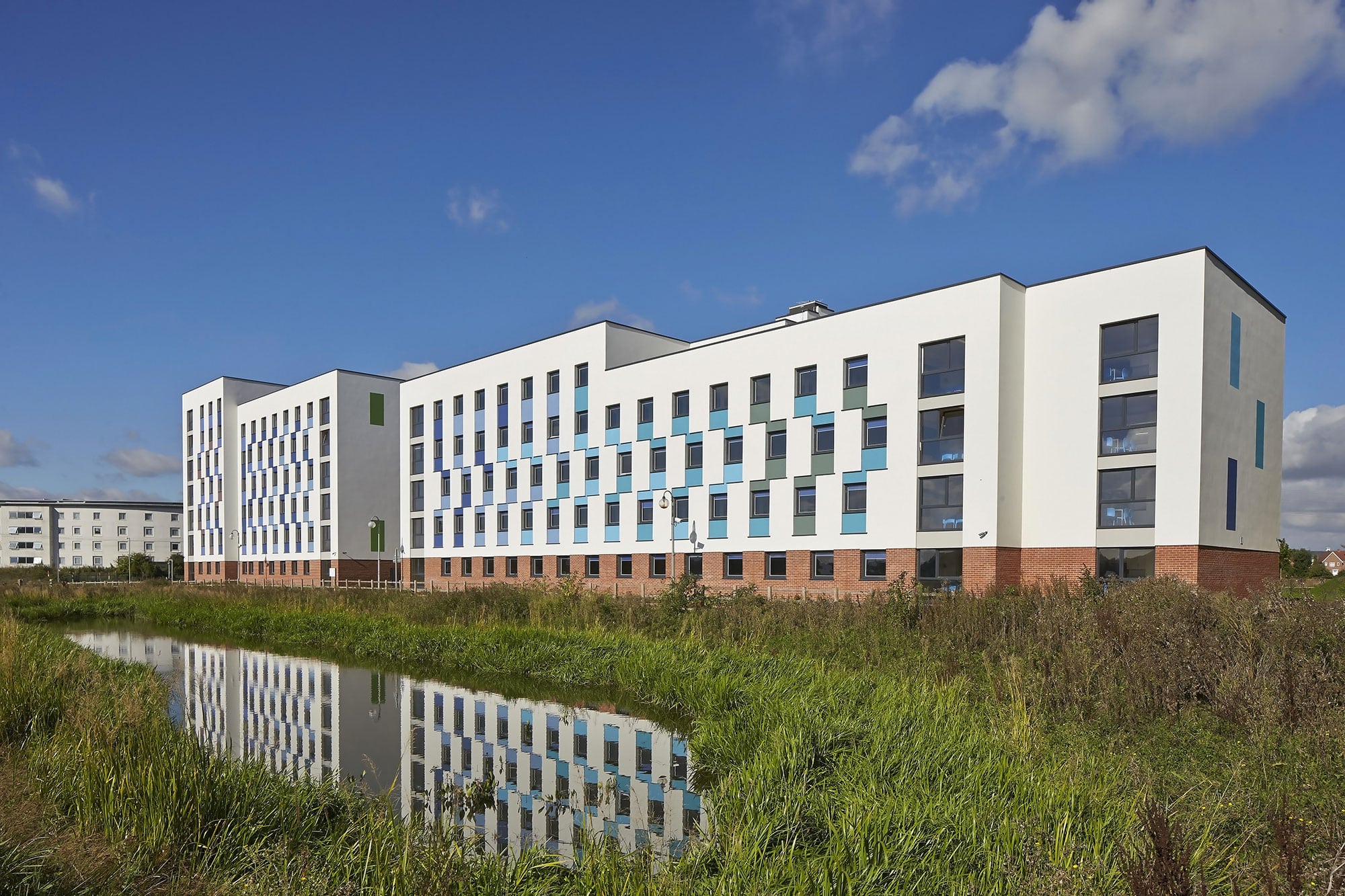 Sustainability Practice
The University of Essex has received a Green Site Office, Platinum level award for sustainable practice on site. It successfully achieved a level of competence in the following areas:
Water consumption
Electricity monitoring
Heating
Waste Management
Awareness
Innovation – Usually perceived to be achievable on huge projects only, the platinum award in this case is recognising the implementation of a large quantity of new and innovative ideas.
The Meadows is a superb example of what the University of Essex can achieve through partnership. This high-quality accommodation has been delivered on time and adds another dimension to our provision for students at our Colchester Campus.

Bryn Morris – University Registrar
Moulsecoomb Campus – University of Brighton

Pittville Student Village – University of Gloucester, Cheltenham

The Copse – University of Essex