CSR, Our Projects, Our Team
13/04/2021
Leigh Academy Blackheath achieves BREEAM 'Excellent' Rating
---
We are so proud of our Project Team at Leigh Academy Blackheath for achieving their final BREEAM certification, with a rating of 'Excellent' and a score of 72.2%. Throughout the project, there was a high level of coordination with our Technical Departments in house Sustainability team, this close collaboration has ensured numerous sustainability features including:
Energy efficient design (enabling a 39.2% CO2 reduction on Building Regulation Part L 2A)
Water efficient design (delivering 50% improvement over baseline building consumption)
Material efficiency measures (including 99.6% waste diversion from landfill)
Creation of 7981m2 of suitable habitat for local biodiversity
Careful selection and provision of internal finishes, with low Volatile Organic Compound (VOC) content ensuring good internal air quality
Careful design providing excellent levels of natural daylight supporting occupant health & wellbeing
Provision of 287 photovoltaic (PV) panels to the roof, providing 80kWp
Provision of Sustainable Urban Drainage via soakaway attention tanks and permeable paving
Provision of natural ventilation to classrooms and workshops via innovative hybrid units integrated within the primary window sets. These are controlled via room sited CO2 and temperature sensors.
Obtaining BREEAM 'Excellent' means Leigh Academy Blackheath's sustainability level is equivalent to the top 10% of the UK's non-domestic buildings' sustainability performance, a fantastic result for the team and another demonstration of Bouygues UK's dedication to sustainable construction.
Richard Smith, Sustainability Manager, said: 'We are delighted that our dedication to sustainability has been recognised by this BREEAM Certification. At Bouygues UK, we continuously strive to build in the most sustainable way we can'.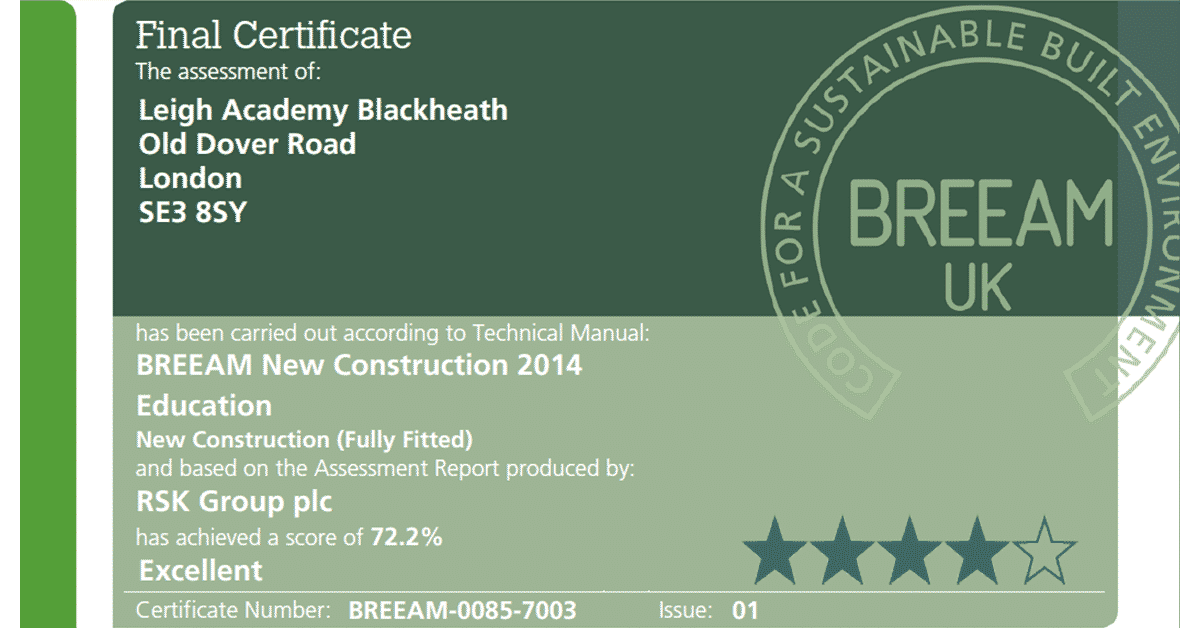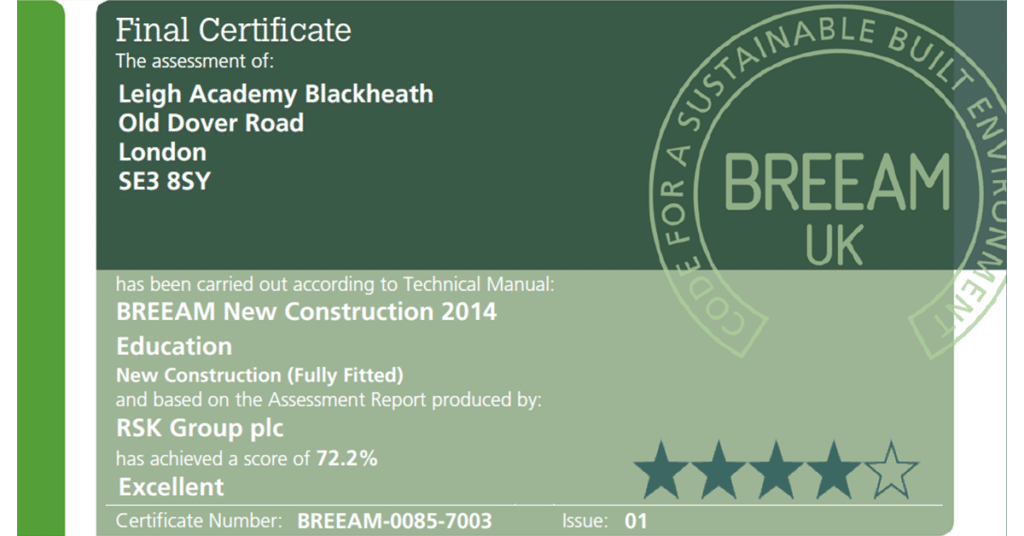 More about the project
We handed over Leigh Academy Blackheath in November 2020, marking the end of a two-year project to deliver a new secondary school for the local community in Blackheath, south London.
Leigh Academy Blackheath, established in September 2018, located just a stone's throw away from Greenwich Park, is a flagship development that, when running at full capacity in 2023, will welcome 1,150 pupils and 115 staff.
Leigh Academy Blackheath now includes a teaching block, accommodating general classrooms, specialist classrooms (science labs, DT, IT), offices, a fully fitted professional kitchen and dining area. In addition to this is the main hall block, accommodating the school's main reception, music rooms, a drama studio, an assembly hall as well as internal sports facilities equipped with a specialist vinyl sports floor.