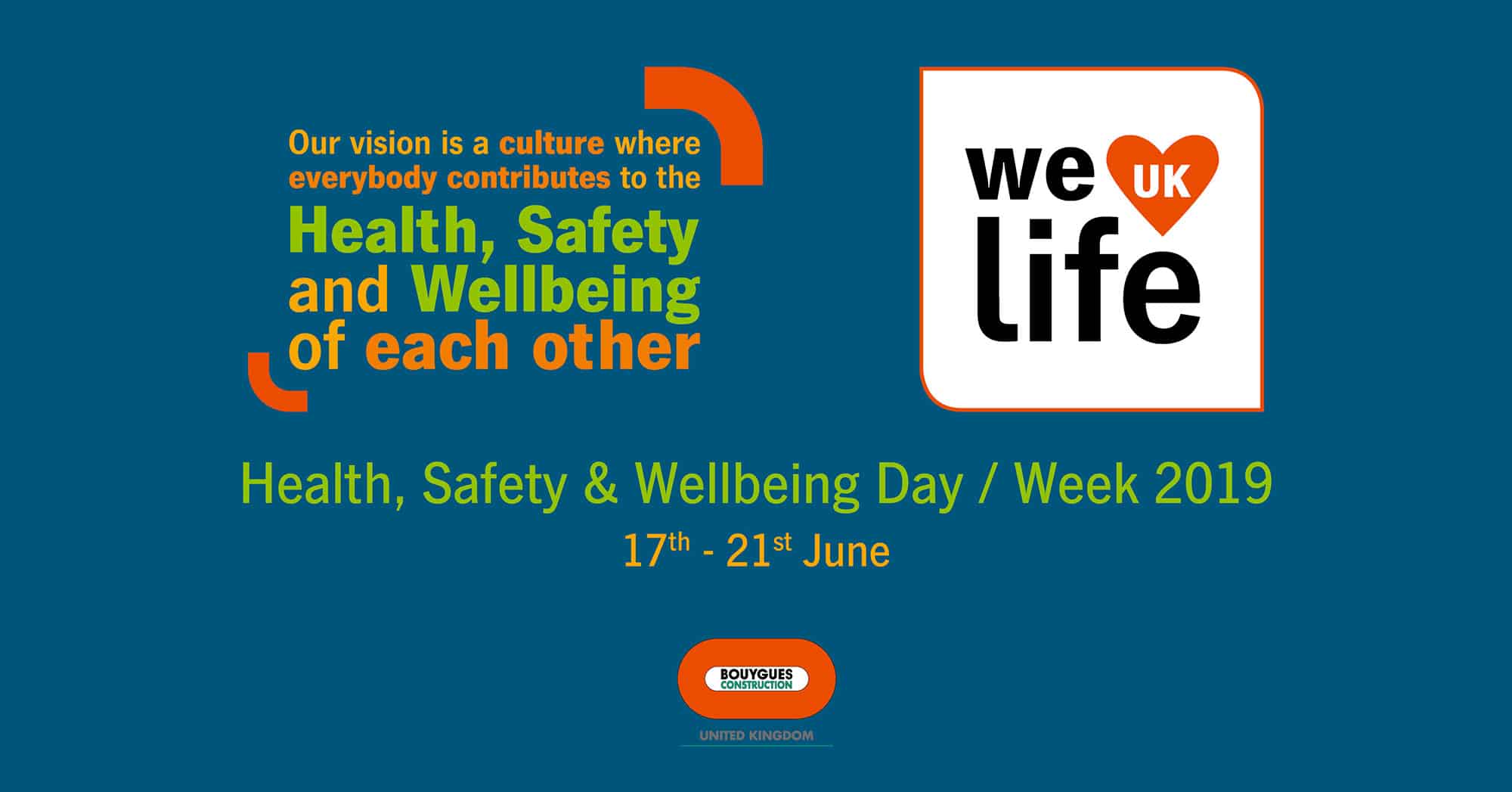 Our Team
17/06/2019
Bouygues Construction United Kingdom marks commitment to staff wellbeing with week of Health & Safety activities
---
This week, staff at Bouygues Construction United Kingdom's businesses – which include construction company Bouygues UK, energy and services provider Bouygues Energies & Services and property development company Linkcity – are taking part in a week of activities to emphasise the importance of health, safety and wellbeing.
Following on from the UK Health and Safety Day held last year, this year's events have an increased focus on staff wellbeing, with particular attention paid to the physical and mental health of Bouygues Construction United Kingdom's 4,000 employees. Training sessions for all staff will address issues of mental health, stress and work-life balance, alongside how health and safety can be improved, with a focus on noise awareness.
Every member of staff across the group's UK sites and offices will be invited to attend dedicated sessions, which will include films featuring the CEOs of the Bouygues UK and Bouygues Energies & Services businesses and UK Country Manager Fabienne Viala making their commitment to these important issues of health, safety and wellbeing very clear. A photo competition will also run throughout the week for staff to get involved by submitting images that depict what returning home safely each day means to employees and their families.
Fabienne Viala, UK Country Manager for Bouygues Construction, said: "Our vision is a culture where everybody contributes to the health, safety and wellbeing of each other. It is our absolute priority that our sites are safe, and that our employees go home safely to their loved ones each and every day, which is why this week is so crucial. The training sessions that every Bouygues Construction United Kingdom employee is invited to are a key element of creating a positive culture where everyone is encouraged to help improve our processes. This is part of our efforts to empower our employees to become health and safety leaders, ensuring the highest standards across the business.
"We felt it was vital for this year's events to give wellbeing the same importance as health and safety. The health of our employees is more than purely physical, and we feel it is only right to put a greater emphasis on mental health and wellbeing this year."