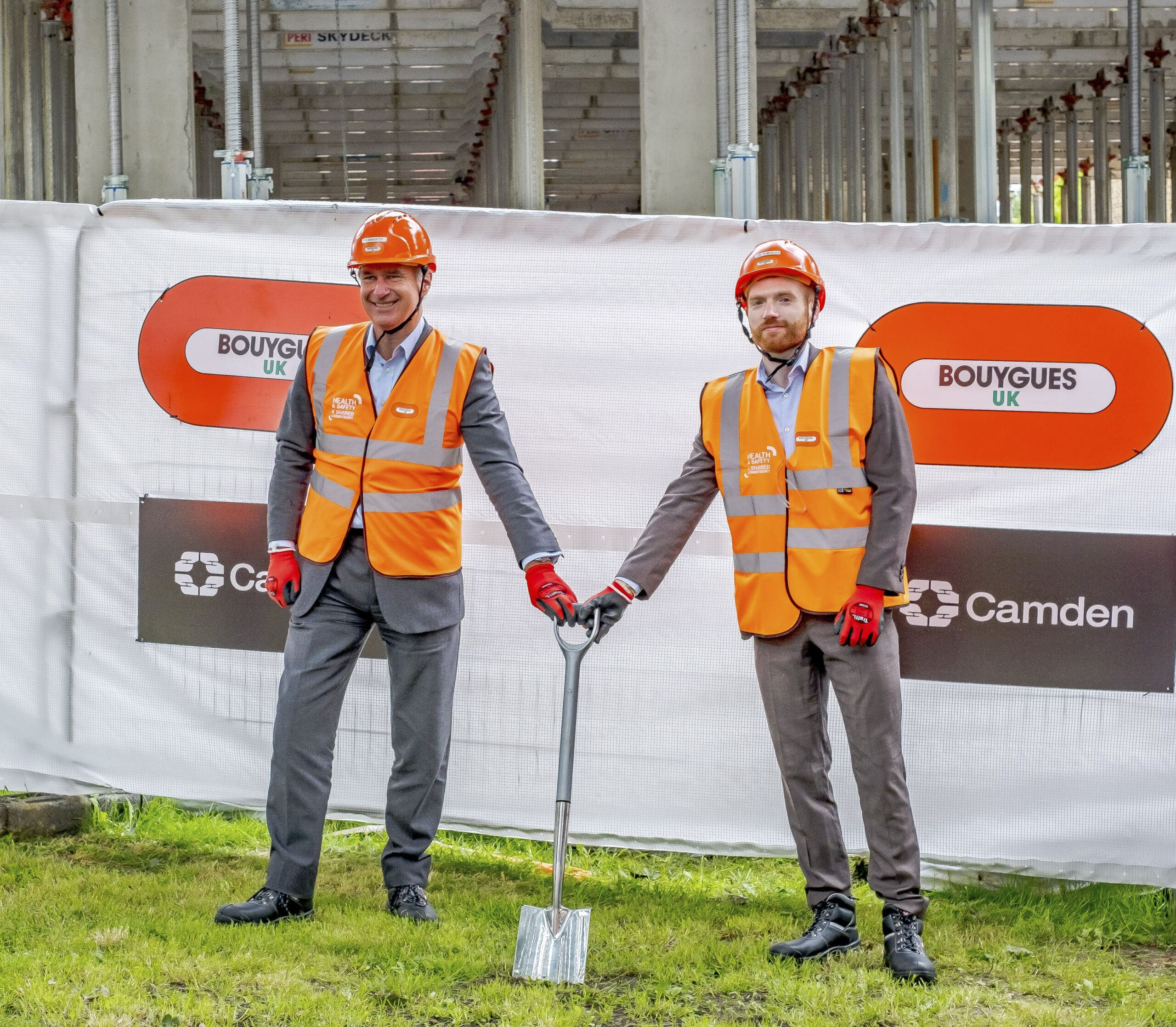 Our Projects, Press Releases
02/08/2021
Bouygues UK Selected for Camden Estate Redevelopment
---
Press Release
Bouygues UK has been appointed by the London Borough of Camden to deliver the part-redevelopment of the Maitland Park Estate with 119 new homes. This partnership was officially marked through a groundbreaking event on the 30th July, attended by stakeholders from the London Borough of Camden and Bouygues UK.
The scheme will create a vibrant heart for the community with new high-quality residential accommodation, delivering 119 new fit-for-purpose homes in a variety of sizes to suit the housing needs of the Borough. This was made possible by the demolition of the 1960's Aspen House Tower Block, the old Tenants' and Residents' Association (TRA) Hall, gymnasium and garages. The resulting new homes will be approximately 43% at council rent with 57% private/market sale and will offer fully accessible and adaptable units across the development.
Located between Chalk Farm and Belsize Park on the Maitland Park Estate, the scheme will also provide a range of external amenity areas, enhanced landscaped open space incorporating engaging play provision, as well as a new on-site community space. The development will also include bio-diversity features and renewable energy provision. Works started on site in March 2021, with completion anticipated in the late summer of 2022.
Rob Bradley, CEO of Bouygues UK, said: "Given our strong track record of delivering highly successful mixed-tenure housing and urban regeneration schemes, we are very excited to have been selected for this project which will have such a positive impact on the availability of affordable housing in Camden. In partnership with the local authority, we are very proud to be delivering sustainable communities that will make a real difference to the health and wellbeing of residents."
Councillor Danny Beales, Camden Council Cabinet Member for Investing in Communities, Culture and an Inclusive Economy, said:
"Through our Community Investment programme we are proud to be delivering much needed new council homes in Camden, encompassing all types and tenures, alongside new and improved schools and community spaces where our vibrant communities can thrive.
"We are building homes that meet the highest standards, which are green, modern and have enough space for our families to grow – including at Maitland Park where we are working with residents to deliver 119 new homes, over 50 of which will be available at council rent. Each of the new buildings at Maitland Park will feature biodiverse roofs with solar panels and the estate will also benefit from a new community hall, enhanced green spaces and play and fitness facilities. We look forward to working alongside Bouygues to deliver this investment for our residents."