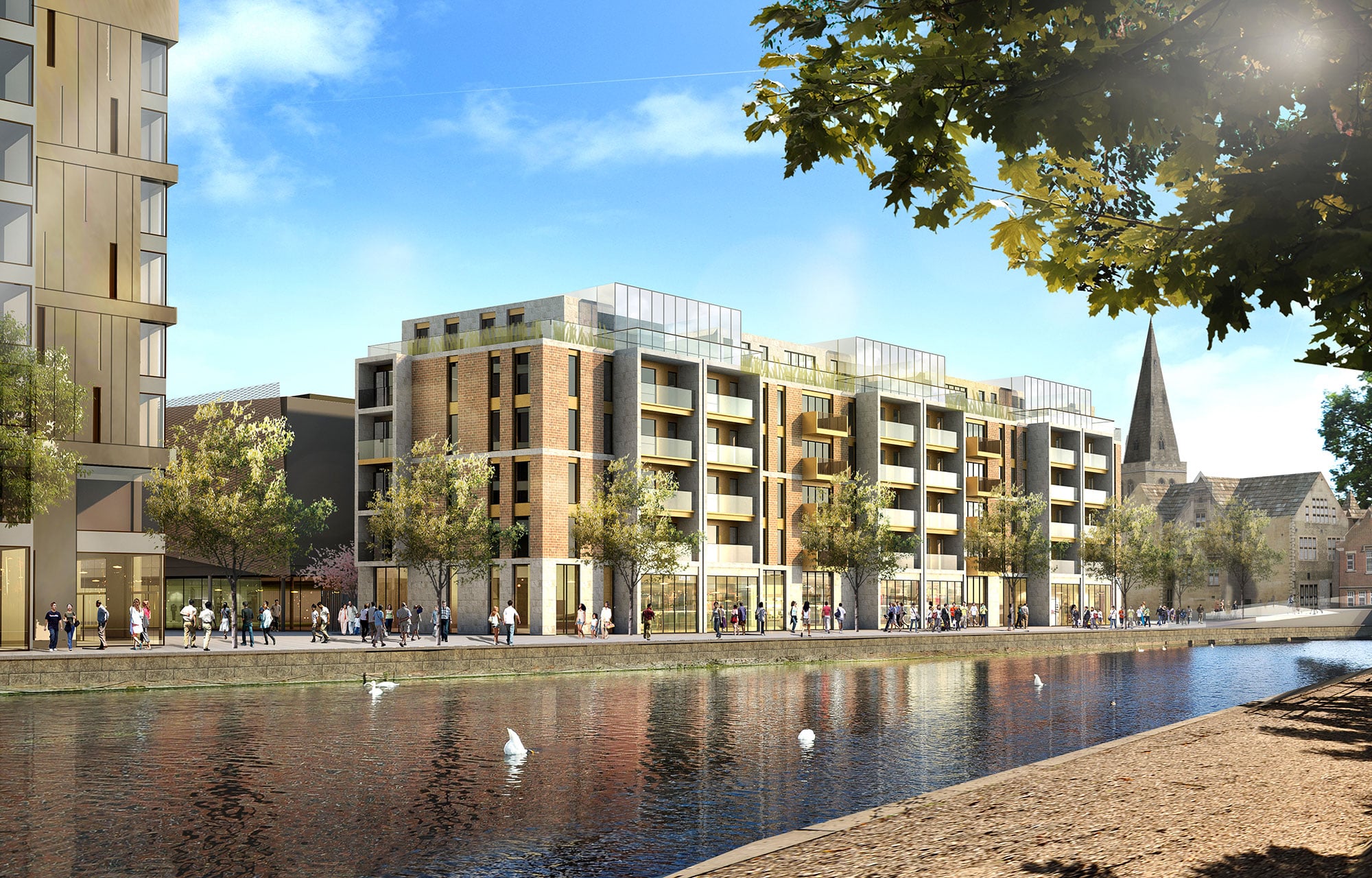 Our Projects, Press Releases
27/04/2017
First units completed at Riverside North, Bedford
---
Bedford Borough Council, its development partners Linkcity (formerly Bouygues Development) and Coplan Estates, and main contractor Bouygues UK have celebrated the first completions at Riverside North, the new mixed-use development in Bedford's town centre.
The cinema, hotel and first restaurant units have been completed and handed over to operators Vue, Premier Inn, Coal Bar & Grill, Miller & Carter, Bella Italia and Gourmet Burger Kitchen, who will all now begin their fit outs. The first of these is expected to open to the public in the coming months with further openings this summer. Other brands confirmed for Riverside North include Wagamama and MEXIco, the latest brand from the Prezzo group.
The remaining restaurants, apartments and public spaces are all now in their final stages of development and residents and operators will take occupation in phases over the coming two months, in line with the expected timetable.
Mayor of Bedford Borough, Dave Hodgson, said: "The handover of the first completed units is another exciting step for Riverside North, which is bringing new investment, new jobs and new reasons to visit and enjoy Bedford Town Centre. Old Council office blocks and car parking have been transformed into a new development which supports our vision of a town centre attractive for retail and also for leisure, culture, food and drink and more."
Nicolas Guérin, Managing Director of Linkcity, said: "We are pleased to have worked with the council and our partners at Coplan Estates to bring this mixed-use development to life. We are pleased to be welcoming some great new brands to Bedford as we complete the project in phases over the coming weeks."
Dominic Rowell, Commercial Director UK & Ireland at Vue Entertainment, said: "We are delighted to be bringing Vue to Bedford. The seven screen, 935 seat venue will see us bring the best big-screen experience – as well as new job opportunities – to the town and enhance the appeal of a visit to Riverside North."
The town's existing retailers – including local independents – are also welcoming the project's completion. Jessica Answer, owner of The Vintage Suit Hire Company, said: "Riverside North will raise the profile of Bedford and make it a more attractive offering to those people who live nearby but would otherwise head over to Milton Keynes, Northampton or Cambridge for a trip to the cinema or a meal out.
The new development will bring more people shopping and eating in Bedford, which can only help independent businesses. Riverside North is breathing life into an area of the town which has previously been unloved; the increase in jobs available for local people will boost employment and subsequently the economy of Bedford."
Those living in the town are also looking forward to the new amenities at Riverside North opening in the summer. Local resident Oliver Bridge said: "Having recently moved to Bedford from London to enjoy a better quality of life, we're excited by the new cinema and restaurants coming to Riverside North, which will broaden the town's range of dining and entertainment options. Bedford's appeal is really growing and we're hopeful that these new places to go, combined with the town's existing offering and fantastic independent retailers, will encourage some of our friends to consider moving here too."