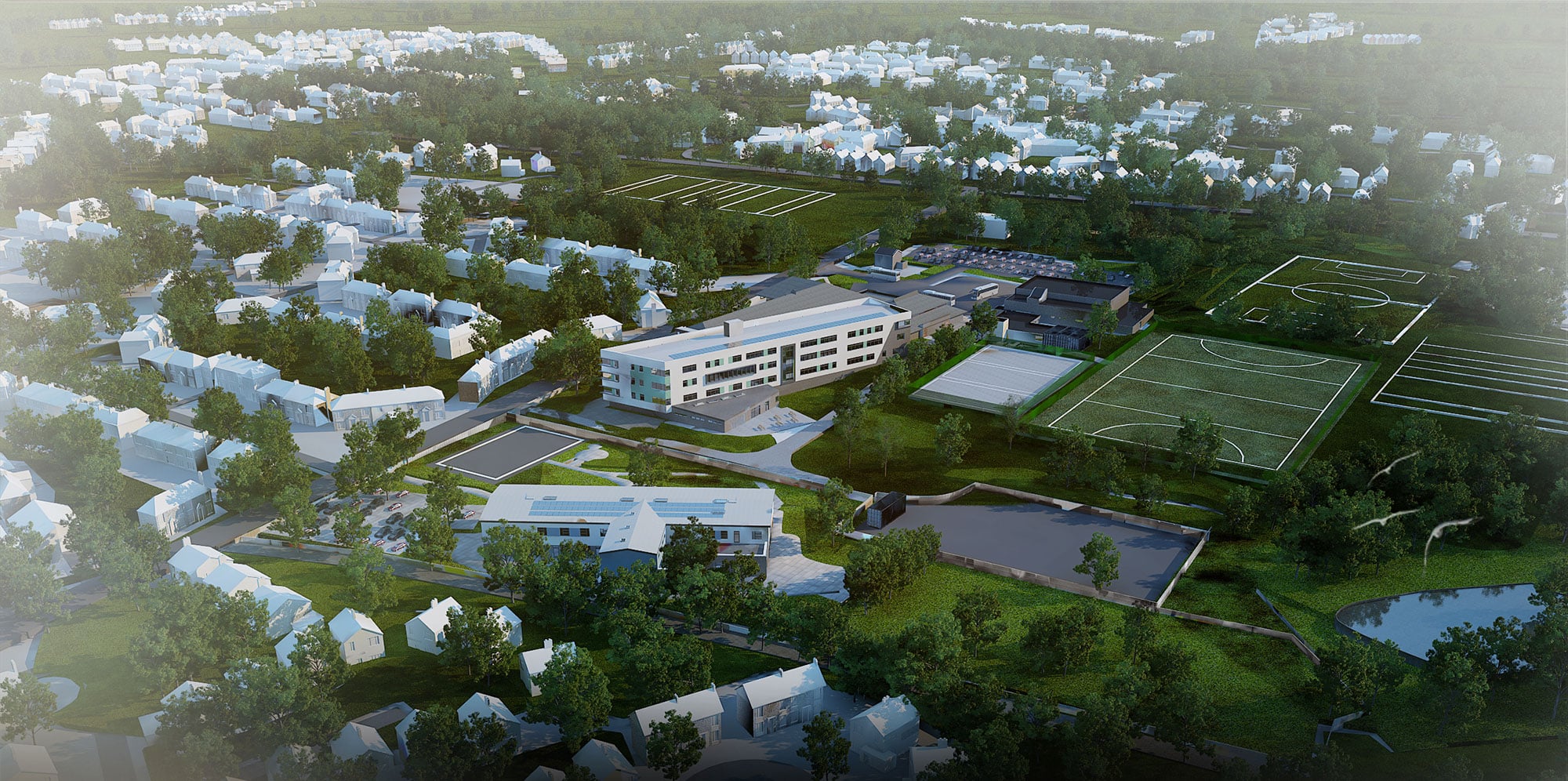 Our Projects, Press Releases
11/12/2015
Landmark new school project is officially underway
---
Vale of Glamorgan Council has ordered the contractor behind the award-winning Penarth Learning Community project back to school – to deliver a new £18m educational development in the town of Llantwit Major.
The Llantwit Major Learning Community project will be built by Bouygues UK and as part of the scheme, there will be a new nursery and a 2280 sqm primary school, the latter designed for 420 pupils. The project also consists of a four-storey new build secondary school and refurbishment, as well as a multi-use games area, featuring three courts, and an all-weather 3G pitch.
Bouygues UK is once again teaming up with HLM and consultants AECOM and Arup for the project: the companies previously collaborated on Penarth Learning Community as well as schools in Newport and Bridgend.
Speaking at the turf-cutting ceremony, which marked the official start of the project, Cllr Chris Elmore, Cabinet Member for Children's Services and Schools, said: "It is wonderful to see work progressing so quickly on the Llantwit Learning Community.
"The Vale of Glamorgan Council is committed to delivering sector leading educational facilities, not just for our children and young people but for the community of Llantwit Major as a whole. We have the same team working on this project as on the multi-award winning Penarth Learning Community and we have every reason to expect a finished build of an even higher standard.
"I look forward to watching the development take shape and to seeing two more first rate schools open in the Vale in the coming years."
Bouygues UK's Managing Director for Western, Chris Stevens, added: "We're very happy to be collaborating once again with our colleagues at Vale of Glamorgan Council, Arup, AECOM and HLM Architects. More than that, we're happy to continue playing our part in delivering modern, high-quality school environment for the benefit of pupils here in the county borough.
"We took good notes from our time delivering Penarth Learning Community together – and hope to replicate the success we had with that project on Llantwit Major."
Welsh Assembly Member, Jane Hutt, who also attended the groundbreaking ceremony, explained: "Llantwit Learning Community project is funded by the Welsh Government's 21st Century Schools programme and the Vale of Glamorgan Council and is an exciting education development for Llantwit which will benefit the whole community."
Gareth Woodfin, lead architect at HLM on the project, said: "Llantwit Major Learning Community is an exciting development and we're delighted to be a part of creating the new hub, which will certainly benefit the local community, as it will gain new educational facilities as well as recreational spaces, such as the all-weather 3G pitch.
"Currently, there are two fully operational schools on the site of the new development, so we've carefully created a design concept that can be delivered without disrupting the staff and pupils onsite."
The project is scheduled to be delivered in two phases.
Image © HLM