Cambridge
The Triangle is Cambridge Assessment's international headquarters. At 38,562sqm it was the largest office complex in Cambridge at the time of construction.
Comprising of two five–storey buildings linked by a corridor and a 39 metre tower, it brings together 3,000 members of staff who were previously based in 11 different offices across the city, under one roof.
---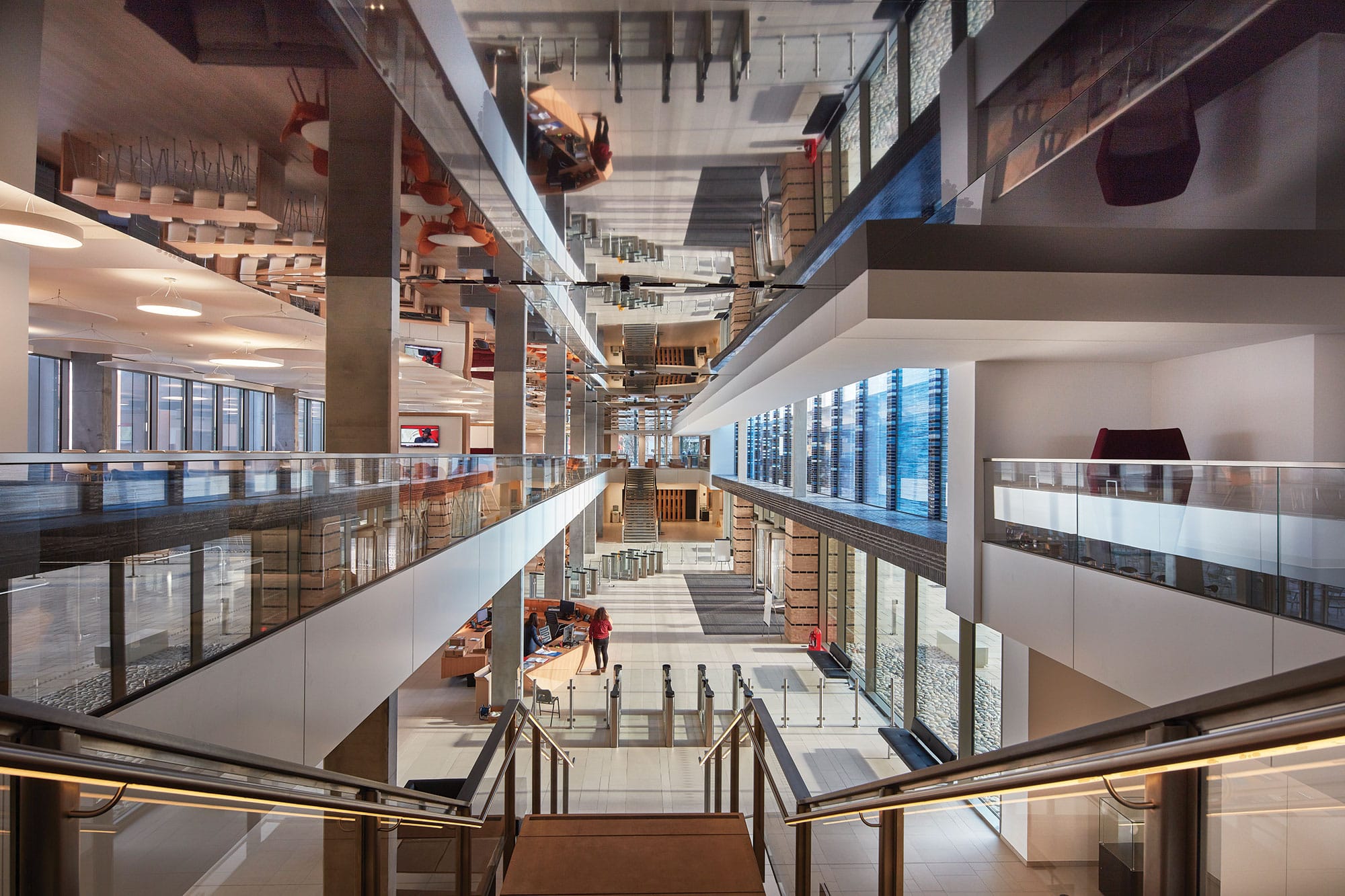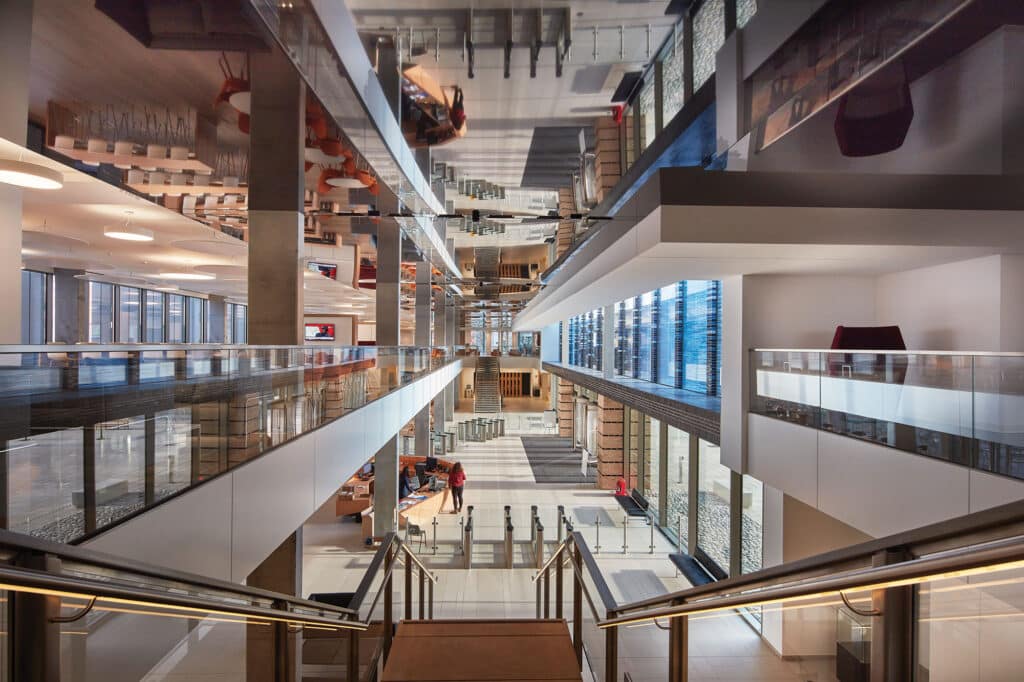 Overview of the project
The two buildings are located either side of a central entrance courtyard. A 39 metre high tower, consisting of a stack of meeting rooms, a viewing platform above and a plant room on the top, forms the vertical element of the building, placing Cambridge Assessment firmly in the city.
The design features an inspiring new group of connected buildings which are arranged in two groups around three podium courtyards, each with a different landscape theme so that the views of them are different and staff can choose which one to use. There are two additional courtyards at ground-floor level and trees have been planted along the site boundaries, to integrate with the wider landscape.
Situated on a 2.5 hectare brownfield site, previously occupied by Cambridge University Press and ideally situation next to Cambridge train station, the headquarters provide office space for 3,000 staff, meeting rooms, archive space, catering, 250 cark parking bays and space for 900 bicycles.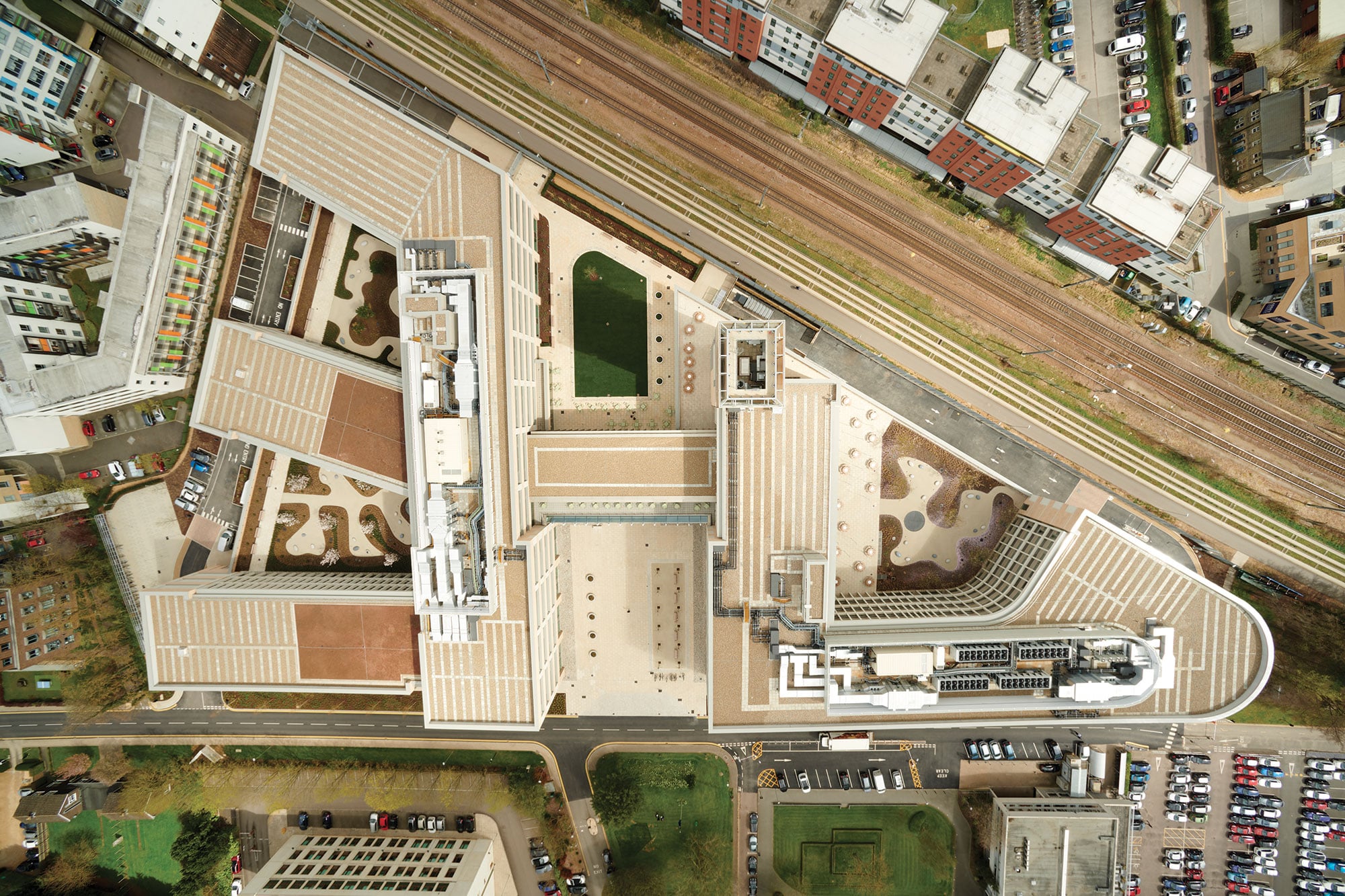 Sustainability and innovation
As owner/occupier Cambridge Assessment has a keen interest in whole life costs and therefore sustainability was high on their agenda. Fully designed using BIM, the building has a very low energy consumption, targeting a DEC (display energy certificate) rating of A, measuring the complete energy usage of the building over a year. This is achieved through maximising daylight, minimising solar gain, high levels of insulation and a low energy active chilled beam system, providing ventilation, heating and cooling.
Bouygues UK involved our sister company Bouygues Energies and Services facilities management team early in the design development process to ensure the principles of soft landing where high on the agenda. This lead to signing of a facilities management contract for the team.
"Cambridge Assessment is one of the world's most-respected education institutions. Our new headquarters, The Triangle Building, provides an inspiring, stimulating and uplifting workspace in surroundings that are commensurate with the international stature and ambition of the organisation. The Triangle Building is a major new academic building in a town renowned throughout the world for its architecture of education and learning.

Our design draws on the atmosphere of Cambridge colleges, blending their mix of materials and focus on landscaped exterior spaces with an institutional modernity appropriate to a company headquarters on this scale."

Eric Parry, Director, Eric Parry Architects
sbarc & TRH at Cardiff's Innovation Campus

Ray Dolby Centre, University of Cambridge

School of Management, University of Bath

The West Hub, University of Cambridge

Sir Simon Milton Westminster UTC and Ebury Place