Wales
This multi-award winning 21st Century School opened its doors in September 2016 to a diverse group of 1,500 students aged 3 to 16, and is a landmark building for Neath Port Talbot Council.
---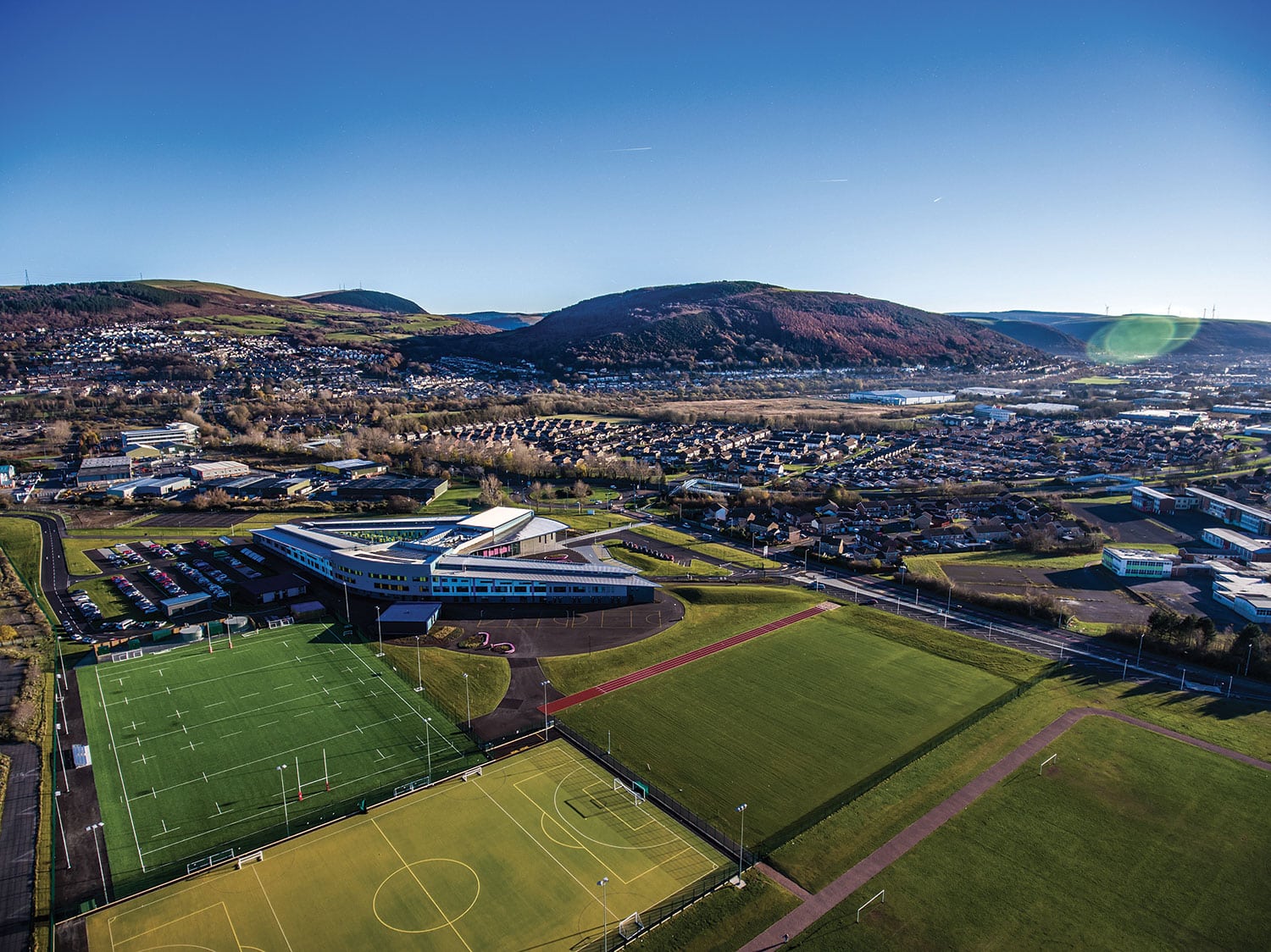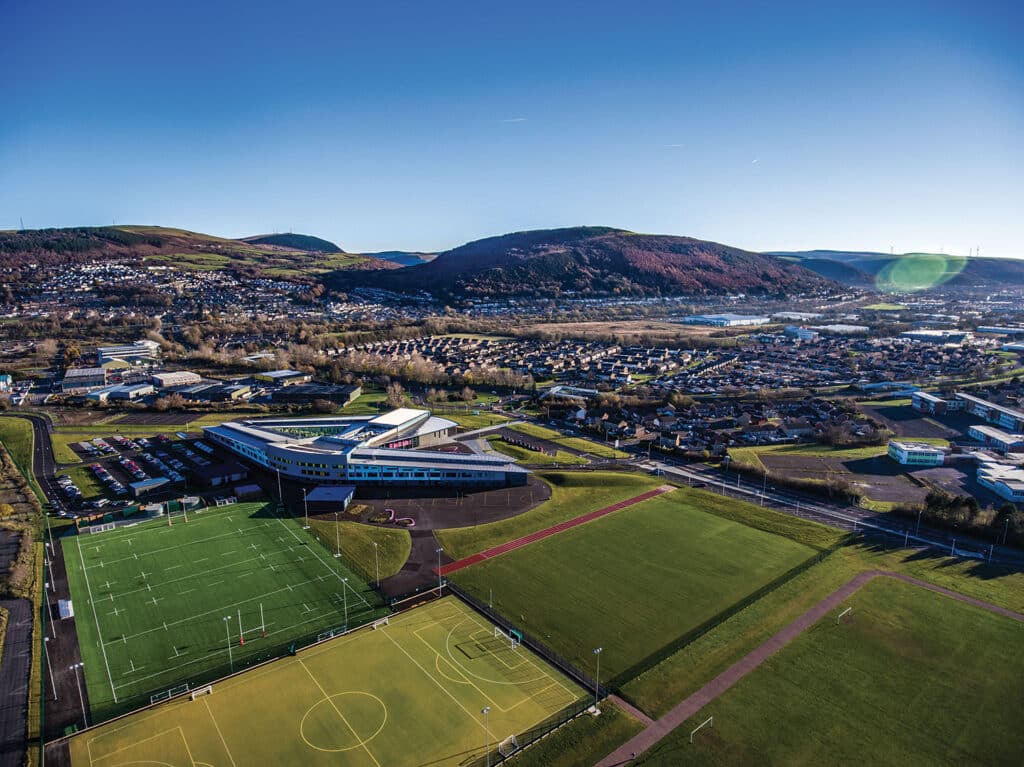 Project of the Year 2017 – Constructing Excellence Wales
Best Educational Building 2017 – LABC Awards
The project involved the amalgamation of four schools – three secondary and one primary – into one super school, providing integrated facilities designed to suit its extreme environmental surroundings.
With its unique architecture inspired by the local geography, the two curved wings provide protection in this windy location. The central hub provides the students with a large open space, with retractable seating areas to allow for performances, exhibitions, presentation, and dining area. Throughout the building, different colours provide visual identification for the different school age zones.
The new school was designed with a structural steel frame all set out on a regular grid allowing walls to be aligned at correspondingly regular intervals. In this way the school's layout plan is very modular, making it easy to adapt to future changes in learning needs.
Challenges
With contamination issues on the existing site, as well as a high water table, Bouygues UK recognised the risk of polluting the lower water aquifer if the initial proposed of precast driven piles had been actioned. Through collaborative working with National Resources Wales, the team used an alternative dynamic ground compaction method, mitigating relative risks to the project and saving the client £100,000 of risk contingency.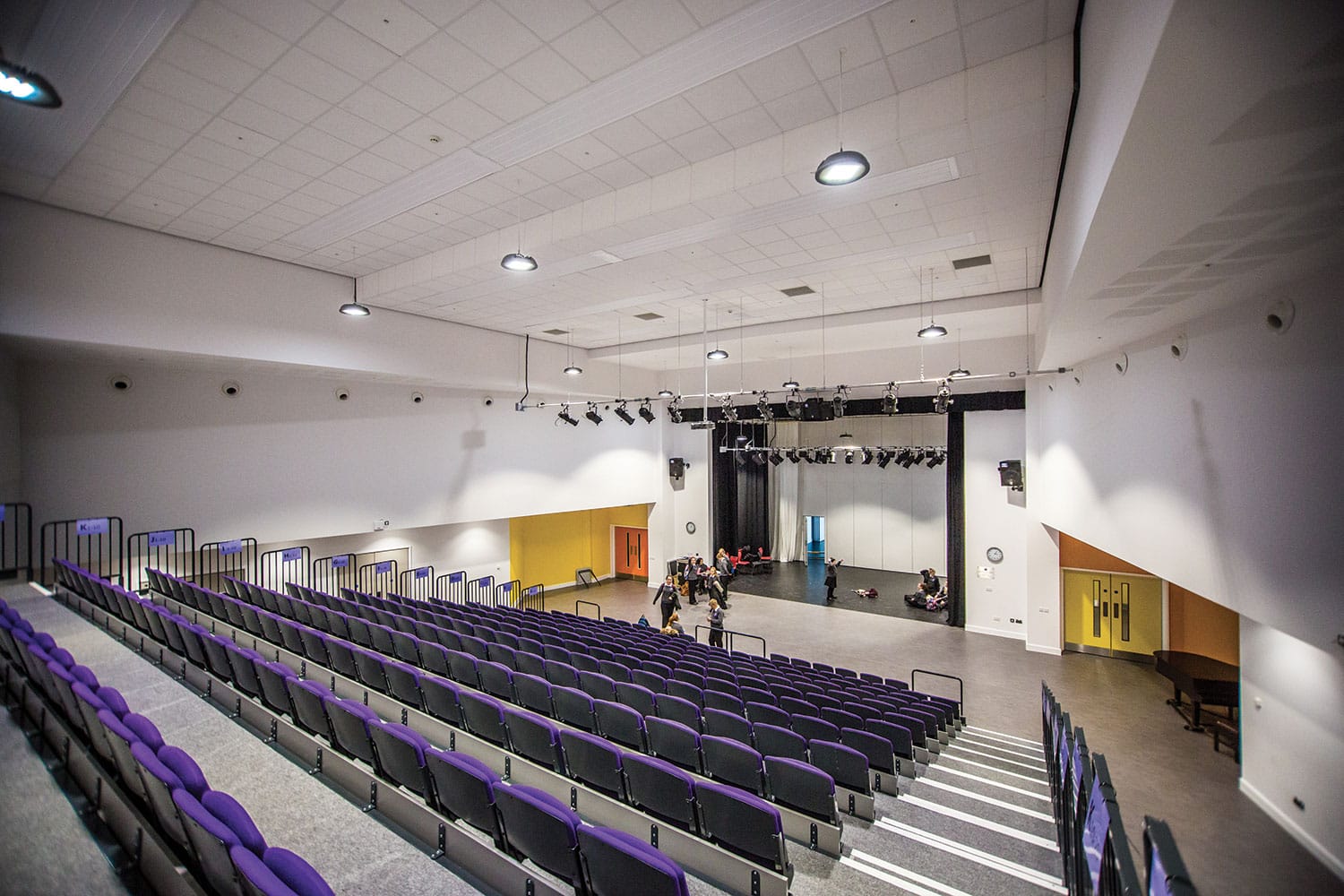 Sustainability and Innovation
Detailed planning and design, particularly focussed on sustainability, will ensure that there is a major positive impact on reducing energy use and pollution over the entire lifetime of the school, providing environmental benefits as well as substantial financial savings. One example is the external sports hall which incorporates a transpired solar collector (TSC). This simple system, developed locally, is an innovative passive energy feature championed by Neath Port Talbot Council. Through the TSC, the wall traps sun-warmed air in its outer layer, pre-heating it for supply to the sports hall and activity studio behind. The use of the TSC means that about 10% of the school is directly heated by solar energy.
Fitting with the Neath Port Talbot's desire for an estate of energy and water efficient schools, Ysgol Bae Baglan holds a BREEAM rating of Excellent and an Energy Performance Certificate of A.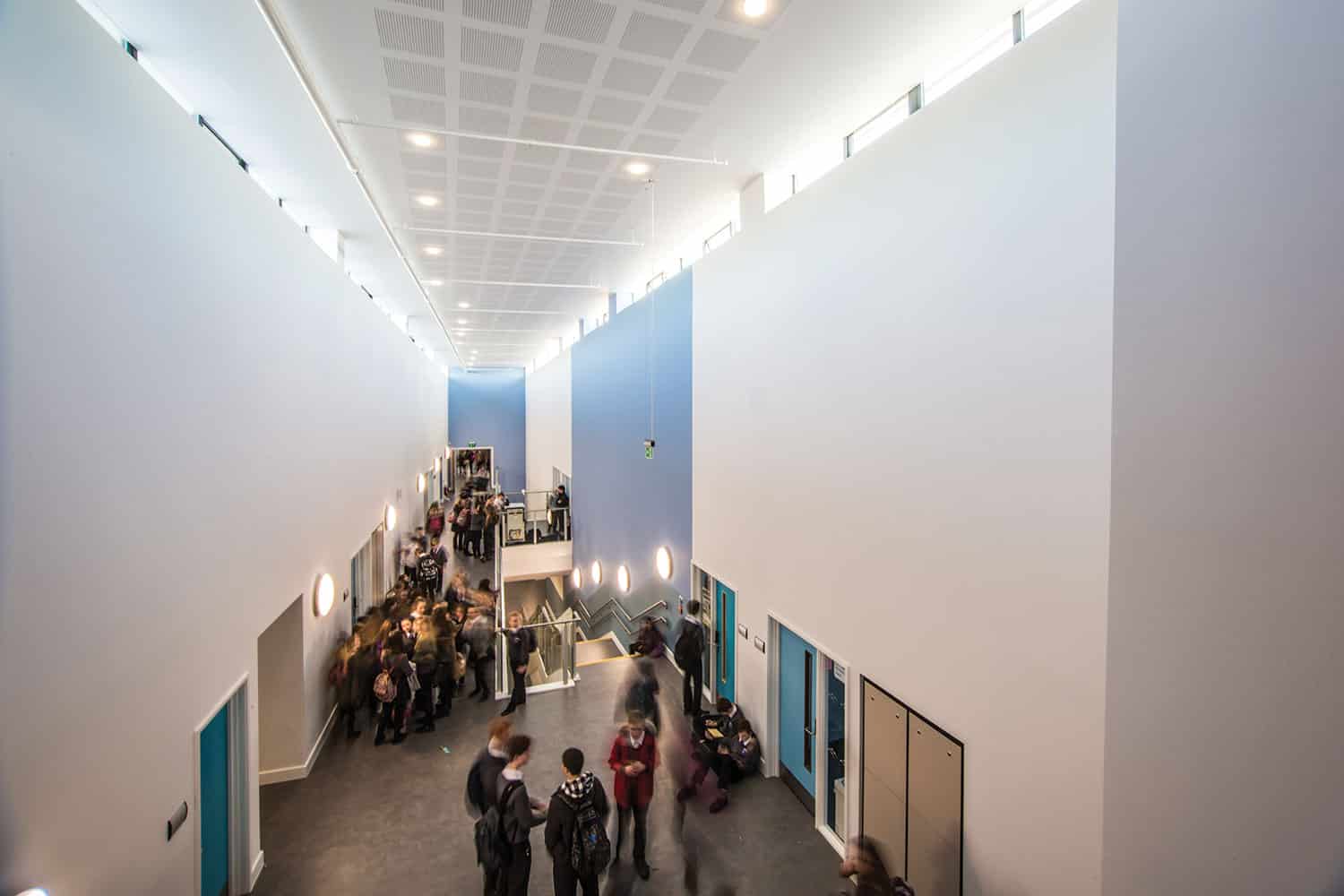 Community Benefits
Bouygues UK's dedicated Social Value team implemented an agreed Community Benefits Plan which exceeded National Skills Academy targets. Overall figures include:
326 people undertook 3800 per weeks of training and development
146 people who were previously unemployed were given employment
73 trainees worked on the school
The team also used existing relationships, supply chain events and new contract agreement to achieve:
85% spent in Wales
36% spent in the local area
86% of labour located in Wales
1,737 tonnes of waste was diverted from landfill
This award-winning outstanding local project, with its environmental and social impact, is a showcase of excellence in constructing. The end product is an amazing school – combined with the sponsorship of Microsoft – which has truly transformed learning and has provided more personalised education to students empowering them to achieve more. This 21st Century School is the community's core, its anchor, giving the children of Neath Port Talbot a chance to shine.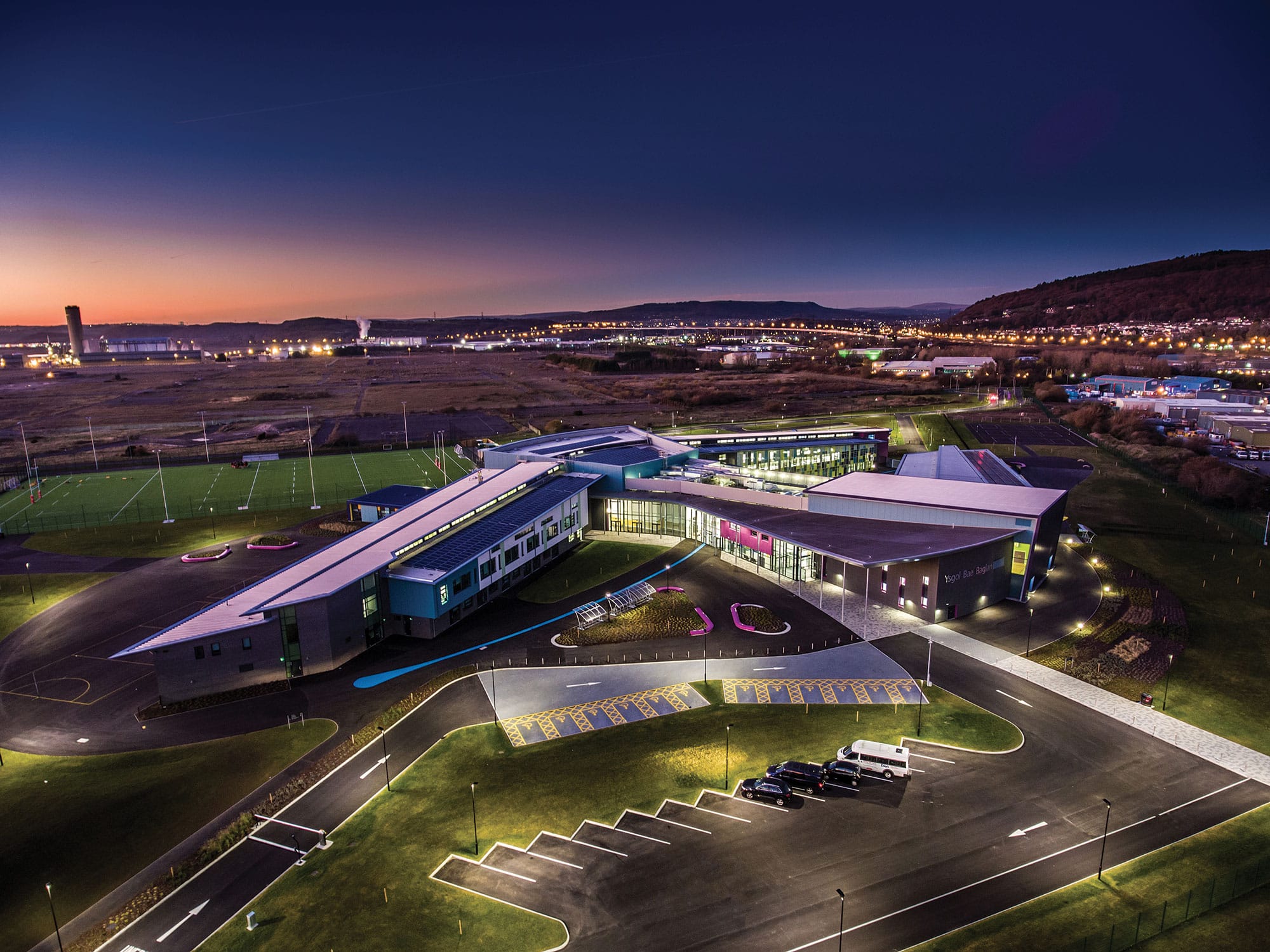 I'm thrilled with what we've produced and I'm very proud, not only of the building for the pupils, but of how the building is operating and really transforming the community.

Head teacher, Mike Tate
sbarc & TRH at Cardiff's Innovation Campus

Ray Dolby Centre, University of Cambridge

School of Management, University of Bath

The West Hub, University of Cambridge

Sir Simon Milton Westminster UTC and Ebury Place

The Triangle – Cambridge Assessment Headquarters